Gisele Bündchen freaked out when Tom Brady won his 5th Super Bowl, and hey, we can't blame her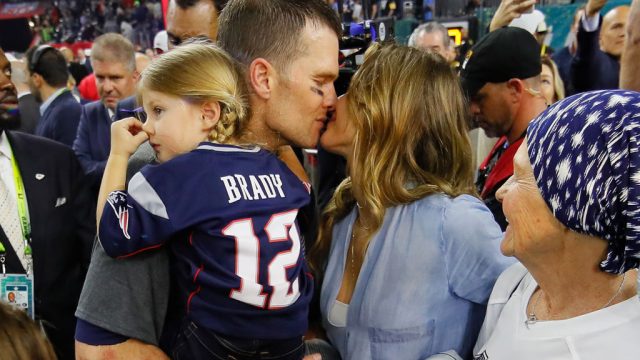 If your team didn't walk away with a trophy and a million-dollar smile after last night's football game watched 'round the world, this is probably the last thing you want to see, so look away while you can. So, Gisele Bündchen lost her mind when Tom Brady won his fifth Super Bowl with the New England Patriots, and hey, we totally can't blame her.
If you watched the big game live, you've already witnessed Bündchen's epic Super Bowl reaction. But for those of you who had to leave early and missed the Patriots' Super Bowl win, you absolutely have to see the clip. The 36-year-old supermodel and mom went completely bonkers after her husband's team scored the championship-winning touchdown to nab the title of NFL champions.
Luckily, Bündchen's extreme fangirling didn't stop her from filming her very own meltdown, which she later shared on Snapchat.
We get it, Gisele. Later to all that modelesque composure we're accustomed to seeing. That's what catwalks are for! Playing it all cool and controlled has absolutely no place when it comes to reveling in victory. After all, it's natural to cheer on the one you love, especially given the fact that Bündchen actually helped her husband train.
Plus she makes sure Brady feels the love.
And sees it, too.
That chest pat, tho.
So, basically what we're trying to say here is why hasn't someone added Bündchen to the roster already? We're not trying to steal the mascot's shine or anything but her infectious spirit would make her the perfect inaugural NFL team model.