Why planning a girls' trip to Walt Disney World is something every grown-ass woman should do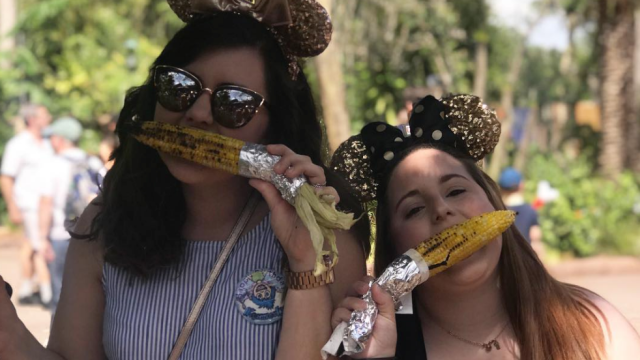 Every month for the past 17 months, one of my best friends and I have taken a girls' trip to Walt Disney World. From my house near Atlanta, it's about a seven-hour drive, depending on how many bathroom breaks we need and whether we require a Starbucks refill after we cross the Florida border. There are two things I hear from the people in my life about this hobby: "Aren't you tired of giving Disney all your money?" and "Why do you keep going to Disney if you don't have any kids?"
I am here to tell you that kids are absolutely not required for planning a trip to Disney World.
And after the unforgettable memories I've made over the last year and a half, I'm pretty sure that every grown-ass woman needs to think about planning a trip to Disney World with your best girls—no matter how old you are, and especially without kids.
There are so many ways to explain why this is something that you need to add to your bucket list, because there are so many wonderful things about the place where dreams come true (not the happiest place on Earth—that's Disneyland). Yeah, it's really fun to ride Space Mountain, grab an ice cream shaped like Mickey, and take a photo with your favorite princess, but the real magic is found in much smaller moments, and those are the moments that have been so special to my friendships.
Our trips to Disney are pretty chill; it's not like when you went with your family as a kid. There are hardly any early mornings, forced group photos, or running through the park at opening to get on rides before the lines start forming.
Instead, we sleep in, we talk, we drink, we laugh. We coach each other through posing for the perfect Instagram pic by the castle. We encourage each other to buy souvenirs we probably don't need. There are drunk carousel rides when you're a grown-up at Disney World, and anything you already love doing with your friends anywhere else, you're going to love doing even more while wearing mouse ears.
Florida is hot. You will be surrounded by cranky children. You will be sweaty, your feet will probably hurt, and you will pay way too much for a hot dog. But you will be laughing the entire time, guaranteed.
Even the less magical moments are magical there with your best friends.
Last year, my friend Alisha and I decided we were going to go down for a quick weekend over President's Day, just to check out a new nighttime show at Animal Kingdom. Only problem: The day we tried to leave Disney World, we got a gigantic bolt in our tire on our way off of Disney property.
Maybe Walt was trying to get us to stay, and it worked. We were both exhausted, stressing out about work that week and had a seven-hour drive ahead of us—things that made the wait at the Walmart Auto Center seem to take three years. But instead of driving home and arriving back in town at a miserably late hour, we decided to stay one more night, grabbed some pizza, and headed back out to the parks to make the best of it.
A bad day at Disney World is better than a good day anywhere else.
And there's nothing like looking at your BFF standing next to you during the Magic Kingdom fireworks, realizing you're both in tears when Genie from Aladdin appears on the castle. No matter how many times I've been, it's magic. It's the best part of your childhood contained in one really special place, where you can see Cinderella's castle and hug Mickey Mouse and travel through 11 countries in Epcot's World Showcase in one weekend.
Adulting is hard, y'all. We can probably all agree on that. There is no other place on earth besides Disney World where you can remove yourself from reality so completely and transport yourself to a place where only happiness exists, and that's why after you take your first girl's trip, you'll probably start planning your second trip to Disney World, too.