The 5 Best States for a Girls' Night Out, New Data Says
As it turns out, NYC and Miami don't have a monopoly on the nightlife scene.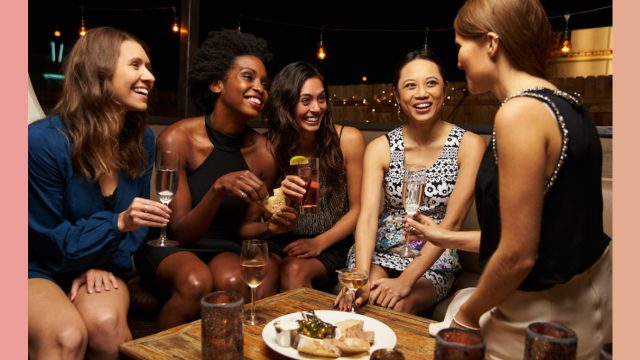 While a family dinner can be fun and a romantic getaway with your significant other can be all kinds of dreamy, we all know that nothing beats a night out on the town with your best friends.
No matter how much older and wiser we get, how much more serious our careers become, and how many more adult responsibilities we may have, there really is nothing better than getting together with your favorite ladies, squeezing into that sexy LBD (that hasn't seen the light of day for longer than you care to remember), and hitting the town to sip on some cocktails in the name of good old-fashioned fun.
If you've ever wondered which states cater best for a girls' night out in the U.S., help is at hand. And if you're thinking, "I'll just stop reading now because I already know NYC, Miami, and LA will determine the rankings," think again!
A new study from the fashion experts at online retailer NastyGal.com reveals which U.S. states top the charts for a safe and affordable night out. The crew took into account everything from the average price of a cocktail (very important), cab, and a bottle of wine, as well as how much it will cost you to treat yo'self to a new party dress.
RELATED: 40 Questions to Ask Your BFF to Find Out How Well You Know Each Other
Then, Nasty Gal went on to use data from Trip Advisor to analyze the number of bars and clubs in each state, along with the number of five-star-rated venues. Finally (because we all know the importance of staying safe on a night out), the experts also factored in the safety of each state before scoring each location a total score out of 100.
Here are the top 5 best states for a girls' night out — and the answers will surprise you!
1. Wisconsin
Taking the top spot of the best states for a night out with your friends is Wisconsin. While famous for its forests, farms, and beautiful coastline, this midwestern state really pulls out the stops when it comes to low-cost cocktails, and it also has an impressive 1,107 bars and clubs across the state, 18% of which have five-star ratings on Trip Advisor.
With a colorful cocktail costing a mere $7.30 on average (less than half of what you might expect to pay in sunny California), head to Milwaukee or Lake Michigan for your next night out for a guaranteed good time.
In the highly coveted second spot is Wyoming, a state beloved by many thanks to its stunning scenery, charming cities, and abundance of nature.
A hugely affordable state, everything from a post-night-out fast-food fix to a sparkly new outfit will set you back significantly less than other states, with the average cost of a high street dress costing less than thirty bucks.
And with a bottle of wine coming in at under $10, the smallest state in the U.S. is not only incredibly beautiful, but is also a bargain to boot!
3. Vermont
If safety is your top priority, head to the beautiful northeastern New England state of Vermont, which came in third place overall but took the reign for the safest city for a night on the town.
Famous for its breathtaking beauty and vibrancy, visit Vermont for a night out under the stars that you'll never forget.
4. North Dakota
Taking the fourth spot thanks to its ample choice of drinking spots across the state (a whopping 551 bars and clubs, for anyone wondering) is another midwestern state: North Dakota, which was also named the happiest state in America, per a study by Amerisleep.
Boasting ample open spaces, natural beauty, and national parks, North Dakota made the cut for the best states in the U.S. for a girl's night out thanks to not only its choice of watering holes but also its reasonably priced drinks. Cheers to that!
5. Iowa
Finally, taking the fifth spot is Iowa with its natural scenic views, friendly people, low crime rates, and small-town vibe. It's not only a great place to live, it's also a fab place to enjoy a night out with friends.
Thanks to its two universities – Iowa and Iowa State University – the state is home to over 60,000 students, meaning the people in Iowa sure know how to throw a good party. Or a girls' night out.
Lucy Pearson is a freelance writer, book blogger and host of The Bondi Literary Salon based in Bondi.
Read more