When this little girl was told to "dress like an Indian" at school, she and her mom turned it into a powerful protest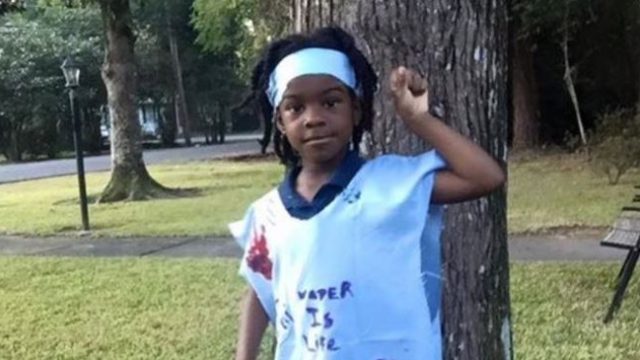 After a teacher assigned a 5-year-old girl to "dress like an Indian" at school, this mom-daughter duo came up with a way to fulfill the assignment without appropriating Native American culture and while supporting #NoDAPL.
Tremeka Greenhouse says her daughter, Nyemah, originally planned to skip the assignment altogether. After a conversation with her mom, however, they decided they could still do the assignment while showing solidarity with the Native Americans protesting the Dakota Access Pipeline.
"I've been following the story of the DAPL protestors and thought it would be good for Nyemah to go dressed as a water protector instead of an actual Indian 'costume,' she told The Huffington Post. "I discussed with Nyemah and she loved the idea. Especially after I explained to her the purpose of the protest and we went over the pictures.
They used a pillowcase and acrylic paint to create a vest that sported "Water is life" and "#NoDAPL" across the front.
Greenhouse says she encourages her daughters to pay attention to the world and speak up when something is wrong.
"When I drop them off to school, I don't say goodbye, I tell them to 'Be great!' I think that each of them will be great in their own way and have an awesome impact on this world.
Tremeka, you are total #momgoals!
Donate to the Standing Rock Sioux Tribe here, and go here to learn other ways to help the water protectors at Standing Rock.