This girl surprised her prom date by walking for the first time in almost a year, and the video will break you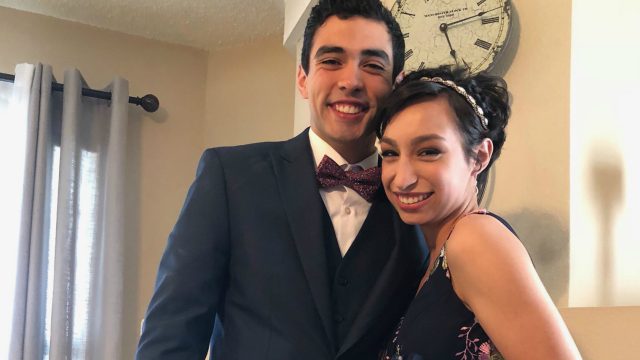 A heart-warming clip of a teenage girl surprising her prom date by walking for the first time in 10 months has captured the internet's heart and proven that real-life fairy tale endings do still exit. We suggest you grab your tissues now because her story will make you weep.
In a video, Morgan (@aeonianlife) can be seen standing in her hallway in a full-length floral gown as she waits for her prom date, Tarik, to arrive. When the front door opens, she steps toward him – something she hasn't been able to do in almost a year. It takes Tarif a moment to realize that she's standing up and walking, but when he does he's overcome with emotion. He shrieks in excitement before rushing forward to hug his date.
"How did you do that?" Tarif asks before giving Morgan a second hug.
Luckily for us, the whole moment was captured on camera. The viral video, which was uploaded to Twitter on Saturday, April 28, already has over 12 million views, one million likes, and thousands of comments.
"After not being able to walk with my own two legs for 10 months... I surprised my prom date with this," she captioned the video.
Watch the touching clip below:
https://twitter.com/udfredirect/status/990147929787772928
According to TheDailyMail.com, Morgan suffers from conversion disorder, which is paralysis that can occur after surgery.
"I wasn't born with this. This happened almost a year ago," she explained on Twitter. "I believe God is real and is very much alive. I know [I] could not have done this without believing in my faith. Thank you for the support but the only reason I got to this point was because I knew God was going to get me."
Morgan – who was crowned Prom Queen by her high school classmates – also shared three more photos of her and Tarif posing together – and yes, we're swooning over how cute they both are.
https://twitter.com/udfredirect/status/990393416595984385
Sending these two lovebirds lots of love. They've seriously touched us all.