How Girl Scouts introduced me to feminism and shaped my grrrlhood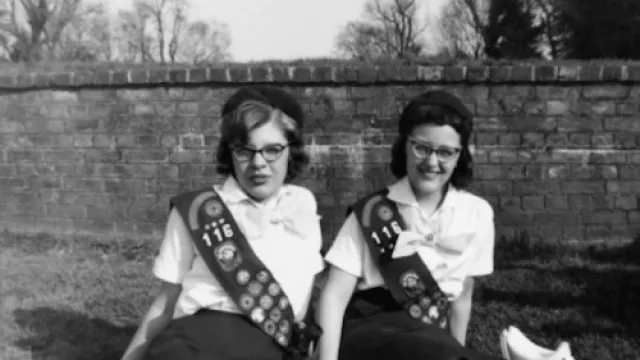 When I was a Brownie Scout, I had my first crush on a girl — a petite redhead named Lisa. She was nerdy and quiet, her freckled nose always in a fantasy novel — plus, she had the same first name as Lisa Frank. Mom's food stamp budget didn't include the Goosebumps series, so it was Girl Scouts and Lisa that gave me life. Once a week for Girl Scouts, BFF Lisa and I were dropped off in a nearby neighborhood — our two-street suburb incomparable to their vast lake and nature trail. Woodland walks felt more spiritual than church. My Bible gathered dust in my room, while my scout handbook adventured through Cheetos dust, scented markers, and strawberry eraser bits in my backpack.
Frolicking on local farms and hiking hills aplenty, we also volunteered at homeless shelters and recycled trash from suburban roadsides. Though empathy is often a gender expectation — women are viewed as providers/nurturers and men are protectors and leaders — the humanitarian aspect of Girl Scouts had a longstanding effect on how I view gender norms.
My first all-girl space was empowering, and consequently unearthed my voice — one that playground bullies and bratty brothers could not speak over.
Being a girl didn't equal weakness, and any adoration that I had for whimsy didn't eliminate my smarts or strengths. Learning that I am multifaceted in a non-judgmental group setting became the baby seed for my future feminist self.
One intense troop meeting about Anne Frank, and how the Holocaust destroyed her girlhood, changed my life. The idea that the "modern world" was full of horrors not too far behind us was mortifying enough — but even worse was the idea that any progress made toward a more peaceful existence could easily revert. And Girl Scouts helped me understand that.
My Lisa Frank spiral notebook with a rainbow orca on the cover held diary entries analyzing the dangerous attitudes of my racist relatives. I read about civil rights in my third grade textbooks, simultaneously surrounded by a consumerist culture of Caboodles and Care Bears. It was a juxtaposition of chaos and cuteness, and my teen angst years were no different; my friends and I made xeroxed zines about "white privileged boys," covering the pages in glittery star stickers.
Through my feminism, queerness, and progressive politics, I became what so many conservatives warned the world about. Patti Garibay even started a separate organization, American Heritage Girls, after the Girl Scouts no longer included faith in their platform.  Other "family values" organizations reject the Girl Scouts for promoting feminist role models, "promoting" homosexuality, and supporting pro-choice politicians. 
These groups forget that the Scouts promotes and supports friendship, too.
Why would anyone oppress others under the guise of "family values"?
My elementary school heart knew the importance of intersectionality long before people were spelling it out.
https://www.youtube.com/watch?v=20iBSAiTIqU?feature=oembed
In 2015, the Girl Scouts of Western Washington rejected a $100,000 donation due to the donor's request that the organization not include and support transgender members.
Scout CEO Megan Ferland launched a campaign to re-match the funds, strongly stating:  
"Girl Scouts is for every girl and every girl should have the opportunity to be a Girl Scout if she wants to. Our vision is that EVERY girl in our region — regardless of her race, ethnicity, socioeconomic status, sexual orientation, gender identity or geographic location — is empowered to unleash her potential, build her future and transform her world.
While the ivory tower of academic feminism in the U.S. is slated for the privileged or scholarship-lucky, Girl Scouts, for me, was only a few steps away from riot grrrl — thanks to its DIY, community based practices.
Every spring when those wee ladies sell Tagalongs and Samoas in front of the grocery store, it brings me back to my girlhood, when it was an all-encompassing, enriching experience. Though I've struggled with my own genderqueer feels, I do know that my "femme" is often under attack, as it is for ALL femmes — cis women, trans women, and gender fluid folks alike.
As children, we are told what to do, how to dress, act, think, and be in a manner that serves the patriarchy.
Girl Scouts taught me that I could climb a tree just as well as any jock, and wear pink while doing it — covered in dirt, screaming Cyndi Lauper lyrics, ready to take on the universe.
Who knows where I would be or how I would see the world without them, but Goddess bless the space that advanced both my mind and spirit during the shaky time of adolescence, not just a young person, but as a queer and as a girl.
Bon appetit, Thin Mints and early onset feminism!