A girl scout sold hundreds of cookies outside a marijuana dispensary, and that's just savvy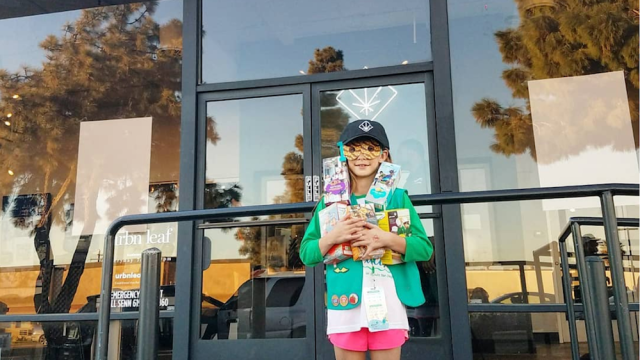 'Tis the season for girl scout cookies, and one bold young scout has uncovered the magic solution for selling cookies — and it's all about location, location, location.
While many of us would just give our cookie order forms to our parents to bring to work, leaving them to deliver the hard sell, a San Francisco Girl Scout has been making headlines for selling her cookies outside a marijuana shop. It seems to be working, too. According to ABC 10, she sold over 300 boxes in just six hours. (At up to $5 a box that's a lot of money.)
The dispensary, Urbn Leaf, sparked both controversy and delight this week by posting a photo of the scout to Instagram. "Get some Girl Scout Cookies with your GSC today until 4pm," they wrote.
https://www.instagram.com/p/BetbYbtlNEH
While a number of people are concerned about a Girl Scout being anywhere near a marijuana shop, it isn't technically breaking any laws.
"This is kind of a community issue," spokesman for the Girls Scouts of the U.S. Mike Lopes told the NYTimes.com. "For the most part, it's not any different than selling in front of any other kind of shop. It just happens to be a marijuana dispensary."
This isn't the first time the Girl Scouts have addressed cookie-selling methods; in 2014, the organization issued a statement after a scout sold more than 100 boxes in two hours — also outside a dispensary.
Needless to say, Twitter is obsessed. false false false
So far, it's unclear how the Girl Scouts will handle the plucky scout's venture. According to CBS, the San Diego Girl Scout council is looking into whether she broke any rules. Just to be on the safe side, though, there are definitely other ways to sell cookies — like with the help of Leonardo DiCaprio.