This girl's painful struggle of taking off her face mask is all of us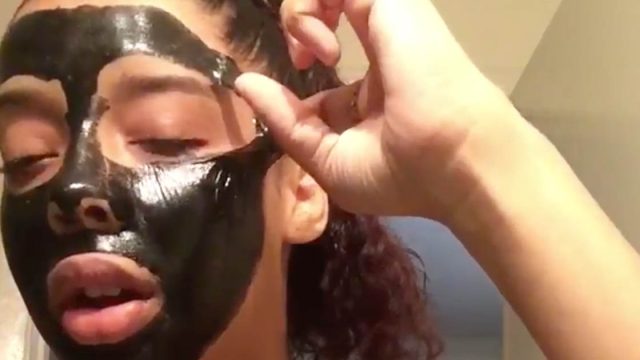 Someone once said that "beauty is pain" and while we certainly don't believe that 'cause, y'know, beauty is more than skin deep, we *do* know that oftentimes beauty treatments can be a little bit painful.
Whether it's over exfoliating, having a bad reaction to the latest moisturizer (believe us, this has happened and OUCH), trying out a vampire facial, or putting beef fat on your face, the things we do to look after ourselves can be a little painful and a lot weird.
That's why, when we saw the following tweet, we knew the pain and struggle was real.
After deciding to treat herself with a 60 minute face mask, Twitter user @Cachet___, real name Cachet Raynor, uploaded a rather uncomfortable and terrifying two-minute video of her peeling off the mask, which looks like it became a little too tight.
Captioning the video saying, "I WILL NEVER DO THIS SHIT AGAIN," Raynor takes her time while peeling off the face mask, pausing to deal with what looks like a load of pain.
false
Ouch! This is SO real and SO relatable that we can almost feel it.
Since uploading the video, Raynor has seen her experience be shared over 45,000 times. Speaking to The Daily Dot she said, "I actually didn't think the video would go viral, I was just being silly."
The product in question seems to be Shill's Deep Cleansing Black Purifying Peel-off Mask by Dr. Shills.
Taking to Twitter, one user commented under Raynor's video with her hilarious Amazon review of the face mask.
"I thought I was dying and am pretty sure I have PTSD after pulling this off my face." ?
Despite the pain, however, it seems that face mask does the trick, with just a bit of added pain.
During her two two-minute expletive filled video, Raynor can be seen stroking her face saying, "My skin's soft, goddamn my face is burning." 
We're not 100% we'd be able to pull this off our faces, but might be willing to give it a go…