People are obsessed with this girl who left her high school graduation the second she got her diploma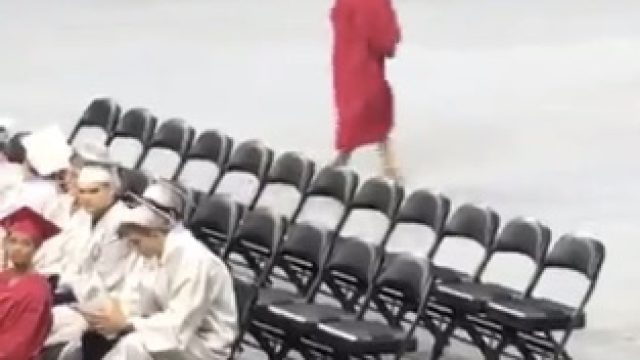 It's graduation season, and though We of the Internet put the bulk of our focus on boss senior quotes and epic commencement speeches, every once in a while an actual graduate goes viral for going big at the ceremony.
Such is the case with Tayler Michelle Gray, a 19-year-old recent graduate of Parkland High School in Allentown, Pennsylvania, who gained a whole ton of internet fame for ditching her graduation the second after she received her diploma. false
Before you judge Gray too harshly for not sticking around for the rest of the G's (and H's, and I's, and J's, and K's), here's some much-needed context for the situation.
As BuzzFeed reports, during her junior year Gray entered her high school's online program to finish up her degree while she simultaneously attended Lehigh Career and Technical Institute to gain the skills she would need to become a nursing assistant. Then, this past March, Gray started working at a rehabilitation home for seniors. Her plan is to continue to study at Lehigh Community College, and then transfer to a university to study sonography.
All of which is to say, this is clearly a lady who has already moved into the next phase of her life, and it totally makes sense that a girl wouldn't be super-sentimental about graduation shenanigans when she's already got both feet out the door. Gray showed up for her diploma, sure, but it just didn't make sense for this woman on the go to hang around for the rest of the alphabet.
As you can imagine, the internet fell madly in love with this lady who waits for NO ONE, and bowed to their queen in the comments. false false false false false
Of course, it's completely lovely and great to stay around and wait for the rest of your class to graduate (Otherwise, who would be there to cheer for those few lone Z's?), but sometimes a girl's gotta skedaddle. In Gray's case, as she told BuzzFeed, she wanted her family to see her graduate, but then she wanted to go hang with her fam immediately rather than wait through the rest of the names.
"There was no reason for me to sit there for the rest of it," Gray told BuzzFeed. "If I was being disrespectful I would've made a scene. I just minded my own business and kept walking."
Well, here's to doing graduation your own way, and becoming an internet legend in the process!