This girl sent an email to her professor about her breakup, and the internet is obsessed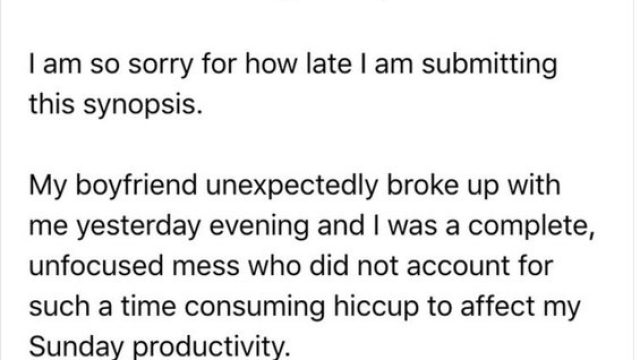 The last person you'd typically want to tell that you've been unceremoniously dumped is your professor. Or is it? A 19-year-old student student at Ohio State University, Rachel Harriman, has us thinking twice about being so honest with a teacher. When her boyfriend broke up with her out of the blue, she was in so much shock she wasn't able to finish her history homework on time. Rather than just turning it in late with no explanation, though, she mustered up the courage to send her professor an honest email about her breakup, and why it caused her work to be turned in late.
Her email was short and succinct, but it was enough to catch the attention of pretty much the whole Internet. When Rachel tweeted a screenshot of the message to her professor, she went viral. false
"I am so sorry for how late I am submitting this synopsis," she wrote. "My boyfriend unexpectedly broke up with me yesterday evening and I was a complete, unfocused mess who did not account for such a time consuming hiccup to affect my Sunday productivity."
Rachel's tweet has already been liked over 16,000 times. People replied with words of encouragement and retweeted to tell her story.
We applaud Rachel for her candor. It couldn't have been easy to write that email. But that wasn't all. What she said next actually made us laugh.
"This will obviously not happen again, as I am no longer 'in a relationship' and will have no one to break up with me next Sunday. Also, I am very sorry that this is kind of uncomfortable. It is for me too," she wrote.
There's nothing amusing about a sudden breakup, but the fact that Rachel can still find the humor in the situation says a lot about her character. She definitely did something right, because according to BuzzFeed News, her professor replied, "Well, life happens. Seems like a good time to go to Europe." What a professor-like thing to say.
We agree wholeheartedly. Go travel and mend your broken heart, Rachel!