We can't stop watching this girl dance just like a Barbie doll
Move over, new and improved Barbies. This real-life girl is stealing the show with her incredible moves, moves you would think were only reserved for the limbs of our classic plastic dolls.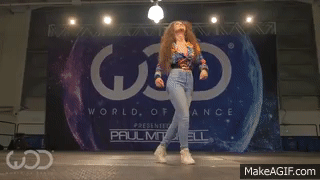 The best part? She dances the whole thing to "Barbie Girl" by Aqua.
Her name is Dytto, and she's a dancer from South Florida who now lives in Los Angeles. A high school student and a part-time model, she's a huge talent that attributes her success to her family's never-ending support.
She appeared on the Ellen show last year, and if you missed it, you can see the video on EllenTube. Although this may be the first time you're seeing her, she's definitely not short on fans. More than 450K people follow her on Instagram.
Whether it's the video or the pictures, you can't help but think, Wow, what a throwback. There's something wonderfully retro about her, from the '80s-like prints she wears, her white sneakers, and the high-waisted jeans. Keep up the rad dancing, girl.
// < ![CDATA[
// < ![CDATA[ // < ![CDATA[ //