This girl gave her dad a seriously thorough makeover while he was sleeping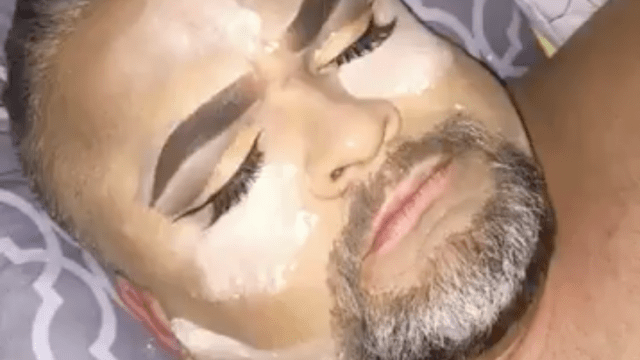 It's a fact that all dads love naps, right? Naps — dads can all agree on. However, it turns out that dads may have something new to think about when they want a stitch of shut-eye: Waking up looking absolutely FABULOUS.
Our new favorite person, Bree Telon, gave her father Eddie a makeover he'll never forget. While her father was catching some z's, Bree took her amazing makeup skills to his face, recording the whole process and posting it on Twitter. All we can say is we wish we looked that good and slept that deeply!
https://twitter.com/udfredirect/status/853824970392195072
Many of us grew up giving our dads manicures and maybe the occasional lipstick makeover, but this? This is a whole other ball park. One where contouring and falsies are an everyday occurrence. Bree creates bold, striking eyebrows on her father, then asking if she should do a cut crease or smokey eye on him. The only thing better than giving your sleeping father a makeover? Crowdsourcing it.
https://www.instagram.com/p/BTAwLPFFqoe
Bree's makeup skills are really impressive — especially under the circumstances. And with gold accents and a cut crease, she's giving her dad the VIP treatment. No matter his eyes were glued together when he tried to wake up (thank the falsies!), he still looks pretty beautiful. Bree's own makeup looks are to die for, and we're glad her father agrees.
How can you be upset when you look so pretty!?