A new mother-daughter Netflix show is catching the attention of Gilmore Girls lovers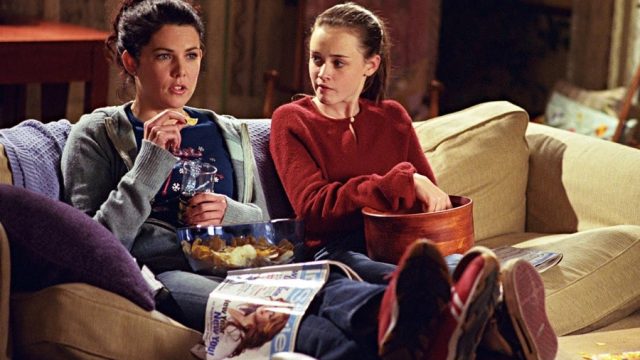 This is ringing a lot of bells—a lot of bells.On Tuesday, August 13th, Netflix announced the impending arrival of a new show, and is it just us or does it sound like it's basically a second coming of Gilmore Girls?
Deadline reports that the new show, Ginny & Georgia, will revolve around 15-year-old "angsty and awkward" Ginny Miller, "who often feels more mature than her thirty-year-old mother," Georgia Miller, described as "irresistible and dynamic." (*cough* Rory and Lorelai *cough*)
When the show opens, we learn that Georgia yearns to "put down roots in picturesque New England" (*ahem* Stars Hollow *ahem*) and give her daughter a "normal life." The attempt to do so places Ginny in the tumultuous situation of having to navigate a new "prestigious" school, high school crushes, and popularity. We're getting major déjà vu.
And instead of being obsessed with coffee, it seems as though Ginny and Georgia share a love of Kombucha.
There's also going to be a bad boy teen living across the street (*hacks* Jess Mariano *hacks*) and Georgia's love interest just happens to own the local café (*literally cries* IT'S LUKE!).
So, you're probably wondering if there are any differences between Ginny & Georgia and Gilmore Girls, right? To be fair, yes, there are.
Rather than coming from an upper-class background, Georgia reportedly comes from poverty and has been building a life for herself and her daughter since escaping rough circumstances after she had Ginny at age 15. And it's not just Ginny and Georgia, either. Georgia has a younger son named Austin.
With Ginny being biracial, we'll also probably see more themes of race, and with Georgia's reported dodgy past, Ginny & Georgia is probably going to be a bit edgier than Gilmore Girls ever was.
According to Deadline, production of Ginny & Georgia is currently underway in Toronto, and the show is set to air on Netflix in 2020. It's the brainchild of first-time creator Sarah Lampert and first-time showrunner Debra J. Fisher, who previously worked on Criminal Minds and Alias. And no, it's not a Gilmore Girls reboot.
Hmm…we'll be the judges of that.