These gingerbread bath bombs take holiday de-stressing to a delicious level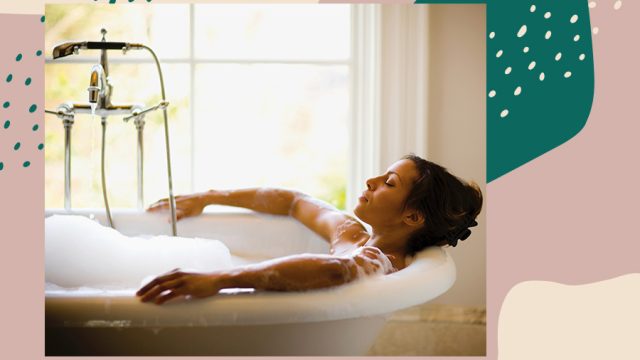 Shopping, decorating, cooking, wrapping presents, traveling—there are endless extra activities that get tacked onto our to-do lists during the month of December. It's easy to get overwhelmed by work, family, friends, and finances, which is why it's more important than ever to set aside time for self-care. If you can't make it to the actual spa, treat yo'self to something spa-like at home during the holidays.
These gingerbread bath bombs are as easy to make as baking real gingerbread cookies—no joke. Escape from your hectic holiday schedule with some soothing bath time, holiday-style. You could easily make a few extras and give them out to your friends as the perfect secret Santa gift. Everyone deserves some me-time during the month of December—let this be yours.
[tempo-video id="5672446286001″ account="4607804089001″]
DIY Gingerbread Bath Bombs
Materials:
1/2 cup baking soda
1/4 cup epsom salt
1/4 cup citric acid
1/2 tsp cinnamon
1/2 tsp ground ginger
1 Tbs melted coconut oil
1/2 tsp molasses
Spritz of water if needed
White soap base
Plastic bag with zip closure
Sprinkles
Silicone gingerbread mold
Tooth picks
Instructions:
Add the dry ingredients to a large bowl: baking soda, citric acid, cornstarch, epsom salt, cinnamon, and ginger. Stir until combined.
Add the coconut oil and molasses. Stir to combine. You can also stir with your hands.
If the mixture doesn't reach the desired consistency (sticking together like wet sand), add more water using a spray bottle.
Scoop the mixture into the silicone mold and pack it down. Let dry overnight.
Carefully remove the bath bomb from the mold.
Chop the white soap base into cubes and microwave for 45 seconds or until melted.
Pour it into a plastic bag, seal the bag, and cut a small hole at the corner.
Pipe out the soap along the limbs of the gingerbread person.
Dab molasses with a toothpick to attach sprinkles for the eyes, mouth, and buttons.
Now, go soak in your bathtub and feel as stress-free as an actual gingerbread cookie.