Gina Rodriguez's throwback protest is something we can seriously get behind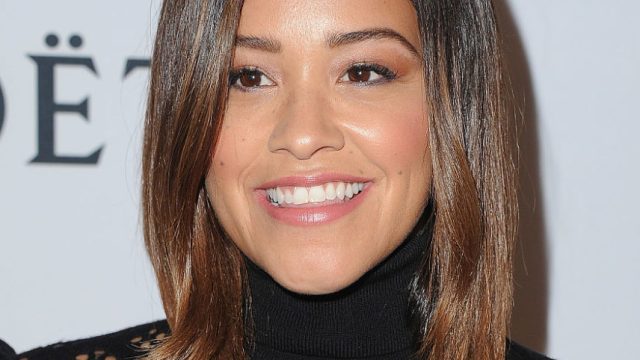 Everyone can't stop talking about yesterday's Women's March. And we can't stop fawning over Gina Rodriguez's "Torch Your Bra" protest tee.
Gina's top is a nod to the 1969 Miss America protest, where about 400 brave women expressed their disdain for oppressive beauty standards. The protesters marched around a "freedom trash can," which they filled with bras, girdles, high heels, and even makeup. No bras were actually set on fire, but that didn't stop the movement from inspiring women across the globe.
Gina Rodriguez wore the most appropriate protest tee to the Women's March yesterday.
false
"Sí se puede," Gina tweeted with a pic of her "Torch Your Bra" tee.
The tweet refers to another throwback protest. Coined in 1972 by labor rights activists Cesar Chavez and Dolores Huerta as a motto for the United Farm Workers, "Sí se puede" is an epic battle cry that translates to "Yes we can" in Spanish. The motto has been used in other labor unions and civil rights movements, particularly in the 2006 immigration rights protests in the US (and if you're a Disney All-Star like us, you'll also recognize it from the movie Gotta Kick It Up! ).
Of course, President Obama borrowed the English translation for his 2008 political campaign. Furthermore, he brought it back in his farewell address earlier this month.
Gina joined the Women's March in Los Angeles and shared photos and thoughts about her experience on social media.
false false false
Additionally, we also love Gina's response to someone who had a problem with her shirt and her bralessness.
false
That's not all. Gina has spoken out for women's rights and immigrant rights many times.
In an interview with Indiewire last month, she said:
"We have yet to handle immigration reform in a way that's civil. We have yet to handle undocumented children, dreamers, in a way that is civil and humane.we have yet to have equal pay for women. There are things even prior to this election lots of women have been fighting for and will continue to fight for. That is still the state of our country. The only thing is that fight becomes more important when those rights are taken away.
false