Gina Rodriguez posted her goodbye to Jane the Virgin, and BRB, we need a minute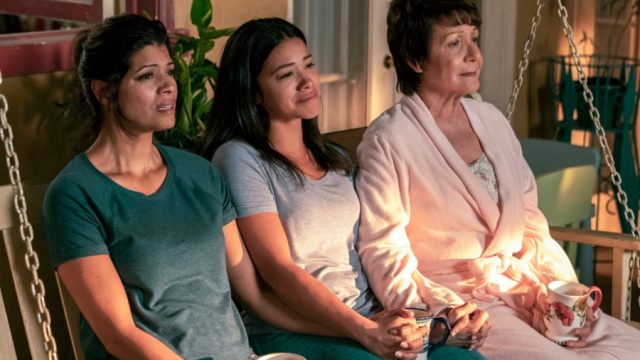 Gina Rodriguez said goodbye to Jane to Virgin in an emotional Instagram post on Wednesday, July 31st, ahead of the show's two-part finale—and as expected, we're a mess. The actress penned a heartfelt message, reflecting on her time on the show over the past five years and paying tribute to her beloved character, Jane Villanueva.
"Jane the Virgin. Wow. We started shooting the first season of Jane in July 2014. A few days into shooting I turned 30 on set. Yesterday I turned 35. And today is the very last episodes, 99 and 100 airing of Jane the Virgin," Rodriguez wrote. "Five years. Five years of love, laughter, growth, pain, surprises, deaths, new births and a shit ton of memories."
A lot has changed since fans were first introduced to the telenovela's heroine, Jane. She's now a published author (who sold her latest book for six figures!), as well as a mother to a son named Matteo whom she shares with the love of her life, Rafael. (Sorry, Michael shippers.)
In her post, which shows Rodriguez sitting in a wedding dress with a black Jane the Virgin hoodie over it, she then thanked her "warriors" for supporting her since day one and expressed her gratitude toward the show's "incredible cast."
"To my warriors who have supported me from day one, Thank you. I am able to live out my dream career because of you and I will never stop making art to bring Joy and Laughter into your home/train ride/plane ride or classroom!" she wrote. "Art is my savior. Art is what makes me feel like I can fly. Thank you to Jennie for making me your Jane and to the incredible cast for becoming my family."
She ended the touching letter, "I will always love you, Jane."
Read Gina Rodriguez's tear-jerking Instagram tribute below.
Rodriguez wasn't the only one to say a public farewell to Jane the Virgin. Justin Baldoni, who plays Rafael, also shared a sweet message, as did Yael Grobglas, who plays Petra. Both stars posted photos from their final days of filming, alongside captions thanking everyone who was involved in the beloved series over the course of its five-year run.
Jane the Virgin's emotional series finale aired last night on The CW, and it's now available to stream on Netflix.