Gina Rodriguez gets real about her autoimmune disease
Gina Rodriguez is kind of killing as the star of the CW's Jane the Virgin (like, seriously). But that doesn't mean she doesn't have her fair share of challenges in life.
In the most recent issue of Health, Rodriguez opens upabout her struggle with Hashimoto's Disease, an autoimmune disorder that can lead to an underactive thyroid, which seriously affects your metabolism and energy levels.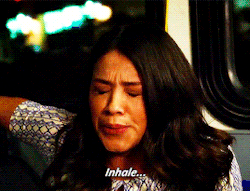 Rodriguez said the disorder made fitting into the already unrealistic standards of beauty so common for Hollywood actresses all the harder.
"Keeping weight off is very difficult because my metabolism is pretty much shot, which to me felt like a curse when I was 19. As an actress, I was like, 'Seriously?! In a world that's so vain, I have to deal with the disease that makes you not keep weight off?'"
In an Instagram post from her gorgeous Cosmo photo shoot, she said it has been difficult to accept her body, but that ultimately, she's proud of herself.
"My struggle with health and weight and body acceptance in this industry has been a loving, painful, growing, exposing, vulnerable and incredible journey," she said in the caption of the post.
"And to come to a place where I love the skin I am in and it isn't defined by anyone's expectations or limitations is beyond freeing. I love this picture because I feel like young Gina finally made herself her own hero."
Rodriguez said she's not only proud to represent women who are dealing with the disease, but Latinas in general. We are seriously so wowed by her dedication and positivity.
Keep up the amazing work, Gina!