Gina Rodriguez and her new boyfriend look incredibly in love in their latest Instagram photo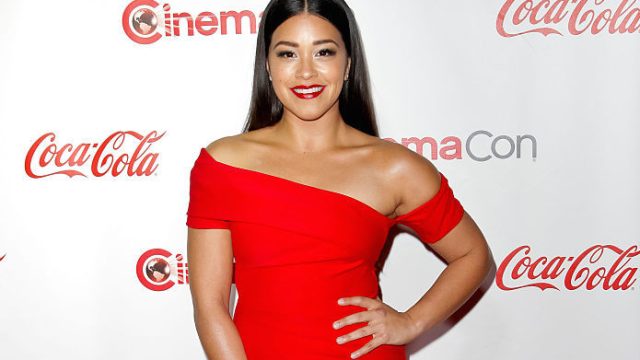 Gina Rodriguez is currently in Thailand and seems to be having the most epic vacation. Rodriguez has been posting some incredibly badass videos and pictures on Instagram, but one specifically really caught our eye. It's a photo of her and boyfriend Joe LoCicero frolicking on a beach with the cutest baby elephant.
Rodriguez and LoCicero seem to barely even notice the elephant, because they just can't stop heart eyes-ing each other in the most adorable way.
Now we knew Thailand was magical and romantic, but these two lovebirds are really sealing the deal with their enthusiasm for sand, baby elephants, and each other.
LoCicero posted his own (even more adorable) photo of their time on the beach with elephants, also reporting on some stomach issues.
"Happiness appears in Thailand after a week of fever poops @doug_rothwell @mike_swick @hereisgina," he wrote.
Rodriguez isn't just doing lovey things on her vacation, she's being her typical badass self. She posted this kickass (literally) video of her doing Muay Thai with a trainer.
She captioned the video, "'Remember what you came here for.' – Ao and I training in the jungles of Thailand. #heaven @akathailand @kittipongwongmanee"
And then there's this photo of Rodriguez kayaking off into the sunset, which makes us want to go to Thailand immediately.
"I kayaked into the ocean to see the sunrise," she wrote. "I ❤️ you Phuket. #thailandDreams"
Rodriguez nabbed her third Golden Globe nomination for Jane the Virgin, and released a statement from Thailand about being honored once again by the Hollywood Foreign Press Association.
"Thank you to the HFPA for always recognizing new and unbelievable talent regardless of color or culture," she said. "The HFPA changed my life three years ago and they continue to do so for so many talented artists and projects out there. How wonderful it is to see an awards show so full of diversity, and not just for diversity sake, but because of the phenomenal performances."
And what better way to celebrate a nomination than with… Thai tacos?
"I feel beyond blessed and humbled to have been one of their discoveries," Gina continued. "It's 10 p.m. in Thailand and I think we are going out for a celebratory beer and tacos. Yup. I said tacos in Thailand, wish me luck!"
Congratulations to Rodriguez on all of her successes — both personal and professional.