Could these two small "Gilmore Girls: A Year in the Life" teasers be more important than they seem?
The past few weeks have been filled with so many Gilmore Girls: A Year in the Life teasers that it has us counting down the hours (minutes, seconds) until November 25th.
Not only have we been gifted with a full length featurette, but the social channels for the Gilmore Girls revival have been dropping hints and teasers left, right, and center. Not to mention the whole full length trailer!
Now there have been two more (rather small) Gilmore Girls: A Year in the Life teasers, and we think they could reveal more than they initially seem to.
As part of getting fans involved with the revival, the show's actors, including Alexis Bledel, Lauren Graham, and Scott Patterson have been gifting Gilmore superfans with little tidbits about the show's upcoming four-part Netflix revival and there could be more clues to life for our favorite Stars Hollow residents than meets the eye.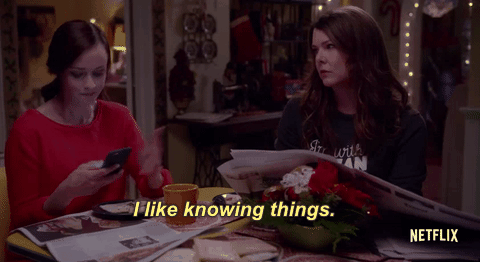 Firstly, Alexis Bladel responded to Gilmore Girls super fan and HelloGiggles writer, @rachmeetsworld (Rachel Paige), revealing something specific about Rory.
"Rory's become quite the Jack Kerouac," Alexis teases in the short clip.
Okay, so while this might not be the most insightful information in the world, it does give us a hint about what Rory could be up to in the Gilmore Girls revival.
Firstly, we know from the trailer that Rory is at a crossroads in her life and has left Brooklyn, New York, to head back to Stars Hallow. We also know that Rory is travelling around the world (in what order those events occur is uncertain). So, and this is pure speculation, we going to suggest that Rory *might* be writing a book about her travels and life on the road.
To support this theory we know that Rory meets up with Jess (#TeamJess 4 Life), who we last saw working at a small independent publishers, Truncheon Books, in Philadelphia, Pennsylvania (season 6, episode 8). We also know that Jess has penned his own novel. Perhaps Jess could be encouraging Rory to write her own book?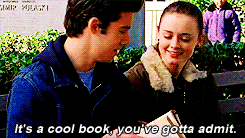 The second teaser has to do with Lorelai and Luke and the chuppah.
Now as know from the trailer, it seems that Lorelai is also at a crossroads when it comes to her relationship with Luke. We see the coffee guzzling guest house owner questioning whether she's actually happy with the diner owner.
https://www.youtube.com/watch?v=dYZYu8Or5FA?feature=oembed
As Bustle points out, the chuppah sort of signifies a lot. Given to Lorelai by Luke as an apology in season two when she's planning her marriage to Max, the structure is sort of an emblem of hope. It symbolizes Luke's romantic nature and his belief that, one day, Lorelai would indeed pick him.
It also helps Lorelai realize that she's not really in love with Max, and helps her call an end to her engagement. It's important stuff. So, while Luke and Lorelai's relationship might be on rocky grounds in A Year in the Life, could the chuppah signify that, through it all, the couple will end up together (we bloomin' hope so)? Could it even mean that wedding bells are on the cards?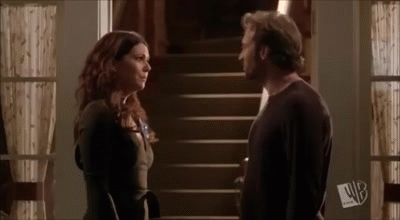 Obviously, we don't really know what's going to happen in Gilmore Girls: A Year in the Life, but if you can't theorize about your fave TV show then what joys are there left in life, eh?
Gilmore Girls: A Year in the Life comes to Netflix on November 25th (that's exactly three weeks today!!!!!!).