These photos show just how much "Gilmore Girls" connects to "The Wizard of Oz"
Imagine a world where Rory Gilmore is actually Dorothy from The Wizard of Oz. It turns out, we don't actually have to look much further than Gilmore Girls: A Year in the Life to see what that world looks like. This is the point where you should stop reading if you STILL haven't seen the Netflix revival of Gilmore Girls. I repeat, spoilers ahead.
The "Fall" episode of Gilmore Girls featured an appearance by The Life and Death Brigade, a secret society in which Logan Huntzberger and a group of his and Rory's friends are members. The whole sequence is a little dream-like and almost doesn't seem real, even within the confines of the world of Gilmore Girls, which makes it an almost perfect reference to The Wizard of Oz. 
Going off of this, Rory would be The Life and Death Brigade's Dorothy.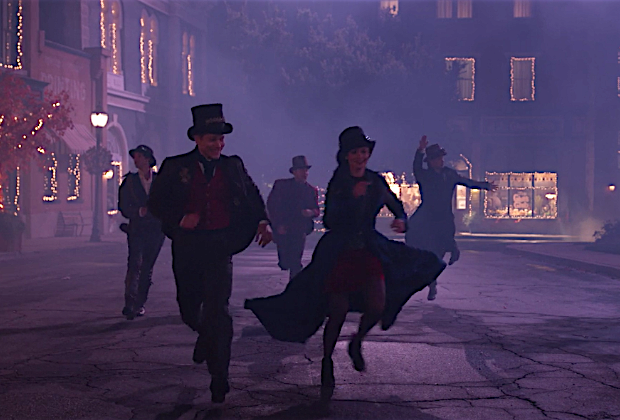 She goes on an adventure with the men and has a grand time! But, just as Dorothy needed to leave Oz and go home, Rory must move on from the fun of The Life and Death Brigade and leave them behind. She says goodbye to her three Life and Death Brigade friends in the most Dorothy way possible.
Alan Loayza, who plays Colin — a member of the Life and Death Brigade who spends much of his screen-time buying everything he sees — posted two Instagrams to prove just how connected the revival is to the famous film. 
The first shows Rory saying goodbye to Finn, her scarecrow.
https://www.instagram.com/p/BNk8TavhWm5
The next shows her saying goodbye to Robert, her Tinman, with Colin, the cowardly lion, looking sad behind them. It's truly uncanny.
It makes sense that Logan isn't part of this Wizard-based plot because we don't recall the Wizard of Oz involving an affair between Dorothy and Oz. Now, is this part of the story cheesy? Oh definitely. But cute references are what made us love Gilmore Girls in the first place. So enjoy the cheese and relish in the cuteness of the revival.