The cast of "Gilmore Girls" shares which Stars Hollow festival they'd actually go to and we're all ears
If we're being honest, we've always wanted to visit Stars Hollow and be a real-life Gilmore girl, but the biggest pull was definitley all the town's outrageous festivals. Now the Gilmore Girls cast is sharing which Stars Hollow festival they'd actually attend and their answers are very interesting.
We all know that Gilmore Girls: A Year in the Life is giving Gilmore Girls a second life, but what would it be like to go to the town and be a part of all of the festival magic the small Connecticut town was known for? According to the cast, there are a few festivals that stood out and one character wouldn't attend any of them — we think we know exactly who this one is, but we'll wait to put our guesses in.
Ahead of the revival, some of the Gilmore Girls cast sat down with Us Weekly and revealed once and for all, which festival would be the best, beginning with Keiko Agena's pick of the festival surrounding the annual Stars Hollow Picnic Basket Auction.
Agena, who plays Rory Gilmore's BFF Lane Kim is a major fan of the Season 2 tradition.
"I'd go to the bid-a-basket one," Agena told Us Weekly. "You can make a basket and get a date. That sounds fun."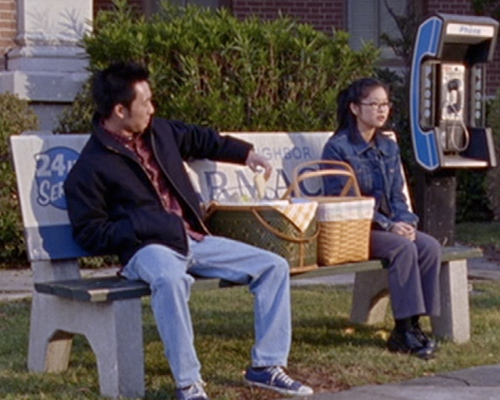 Plus, if you're lucky you can have two hot guys fight over you like Rory did, or in Sookie's case get engaged!
Miss Patty's choice has to do with the first season we're going to see when the revival kicks off.
"The winter carnival is my favorite — to make it snow in Burbank is amazing," Liz Torres, who plays the dance teacher explained. "I love the winter scenes, that was my favorite season in Gilmore Girls."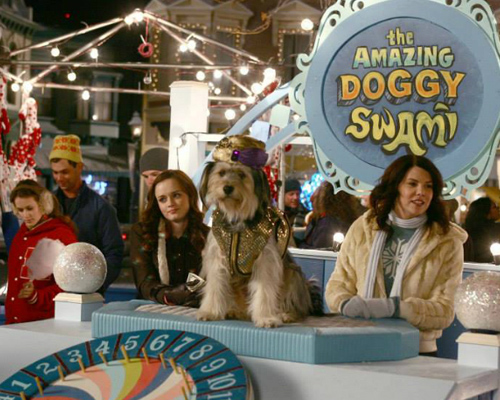 While Danny Strong plays Doyle McMaster, Paris Geller's boyfriend and a non-Stars Hollow resident he still knows which event he'd go to.
"I'd go to the Revolutionary War reenactment, that was hilarious," Strong said, and we totally agree. All that snow and outrageous outfits year after year, it would be a sight to see for sure.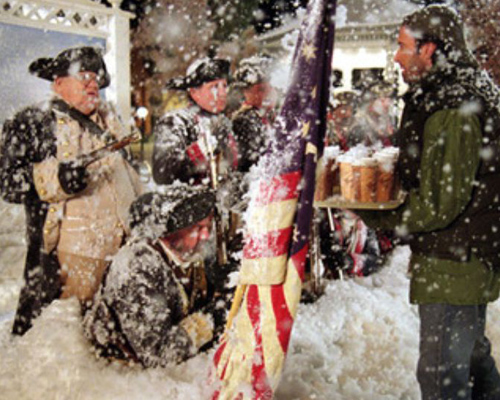 Mike Gandolfi, who plays Andrew, the bookstore owner and frequent speaker at town meetings, pointed out an event from Season 4.
"I was in the Festival of Living Art one, that's the one I love the most. And also, a sidebar — that has the greatest joke in the history of any sitcom in the world," Gandolfi revealed.
"When Taylor [Doose] says, 'And that was Guernica.' Have you ever seen that painting? That would be the most impossible to do a real-life thing of, when they did that joke I was like oh, my God! 'And that was Guernica' — it was the greatest thing I've ever heard."
Fan favorite, Sean Gunn, who plays Kirk Gleason on the show, is also a major fan of the Festival of Living Art.
"I'd love to see the Festival of Living Art, that would be a lot of fun," he told the publication, adding in that he'd definitely reprise his role in The Last Supper painting. "I will play Jesus any time anyone asks me to!"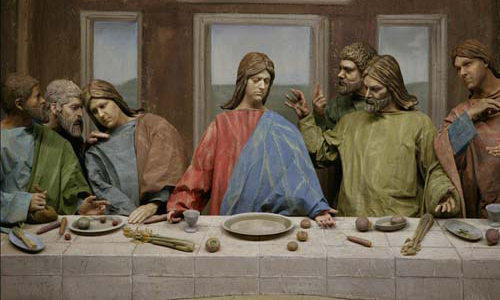 Last but certainly not least, the character who would opt out of any and all Stars Hollow festivals if given the chance would be Michel Gerard, duh!
"Michel would be very annoyed by the festivals," Yanic Truesdale, who plays our favorite inn employee, told the publication.
"Yanic is very much like Michel like that, I don't like big crowds. I don't like festivals in general, I don't like big crowds, Yanic is bored very easily," he added.
Oh, Michel, you silly guy.
Which Stars Hollow festival would be on your bucket list?