We now know *exactly* what Rory is up to when "Gilmore Girls: A Year in the Life" picks up
Poor Rory Gilmore. All she wants to do is find her underwear, and all she can't seem to do is find her underwear. What's a Gilmore girl to do?
Gilmore Girls mastermind and current showrunner, Amy Sherman-Palladino, stopped by the Entertainment Weekly's PopFest on Saturday, and was nice enough to  bring along some never-before-seen clips with her. Now we know a *little* bit more as to what we'll see when Gilmore Girls: A Year in the Life hits Netflix on November 25th — and we know a whole lot more information about a one Rory Gilmore.
Spoiler alert, these four new episodes might as well be subtitled, Gilmore Girls: Rory Can't Seem to Find Her Underwear.
As we saw in the full-length Gilmore Girls trailer, Rory can't seem to stop worrying about her underwear, mostly because she can't find it. And why is that?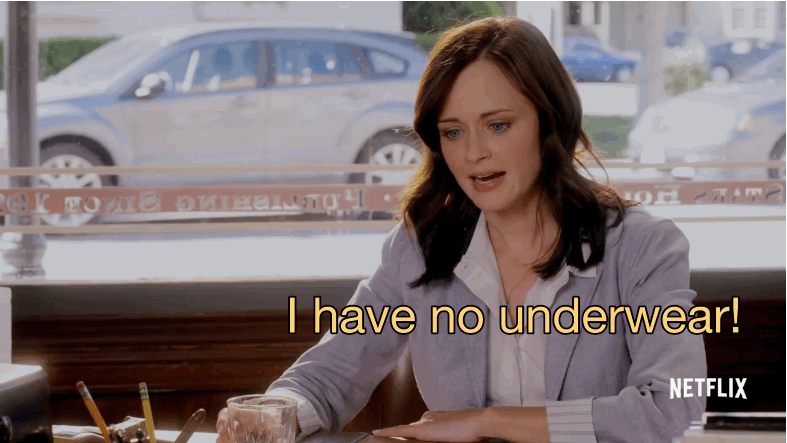 It's because Rory just moved out of her apartment in Brooklyn, and has decided to move back home for a while. Or, at least that's where she's shipped all of her boxes — and she didn't label her boxes properly, and has no idea about the the whereabouts of her underwear.
"Finally gave up your Brooklyn pad!" Lorelai exclaims to Rory in one of the clips from A Year in the Life.
"It was a perfectly decent apartment, it was a great place, I was just never there. Do you know how many nights I actually spent there this year? It was not a lot, and now my building's going condo, and I'm not ready to buy a condo…so bye bye Brooklyn."
A few moments later, Rory muses on the fact that she loves being without an apartment, because she feels so free.
"No apartment, not rent, no ties. I could crash here, I could crash at Lane's. I feel like this is my time to be rootless and just see where life takes me, and travel wherever there's a story to write! I just wish I had remembered to label my boxes. Because now I know where nothing is. My books, my coat, my underwear!
"You have no idea where your underwear is? You've been without your underwear since you moved?" Lorelai asks aloud, and even that's a situation Lorelai would try her best to avoid.
So that line we hear in the Gilmore Girls trailer, where Rory laments to Jess about her MIA underwear? She might be a former Yale Daily News Editor and a world-renowned journalist, but even Rory sometimes misplaces important undergarments.