The cast of "Gilmore Girls" reveal what their characters' favorite TV shows would be now and we 100% agree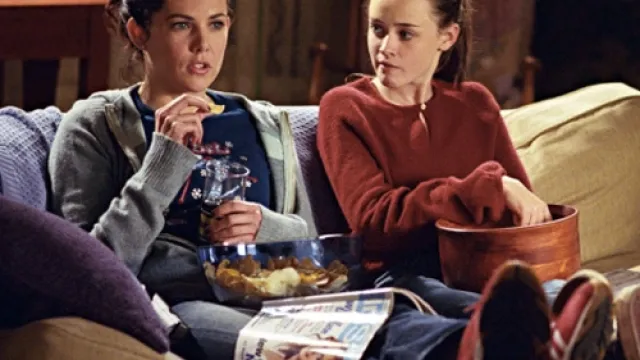 Ah, we are in major Gilmore Girls: A Year in the Life countdown mode and luckily we have more fun facts to hold you over until it officially premieres later this month. The cast of Gilmore Girls revealed what their characters' favorite TV shows would be now, amongst other favorites and we are geeking out hard.
While the Gilmore Girls revival is still 15 days away that doesn't mean we can't continue to talk about it and its characters 24-7. In fact, E! News sat down with a few members of the cast, Lauren Graham aka Lorelai Gilmore, Scott Patterson aka Luke Danes, and Alexis Bledel aka Rory Gilmore, to see what their characters would be into in 2016 and the answers are pretty great.
First things, first, we have to know what the Gilmore Girls characters' favorite TV show in 2016 would be — besides the Gilmore Girls revival, duh!
"Luke in 2016? Vinyl," Patterson told E! News. Yes, a rocker TV show that is retro would definitely fit Luke's rough persona.
"Probably giant geeks for Downton Abbey," Graham told the publication and we totally agree. "It doesn't happen to come up in the show, but ya, I feel we'd have our favorite characters, we'd go back and forth on Thomas. I'm just going down Downton Abbey road."
Okay, now what about the characters' coffee order in the modern age? "Coffee black," Patterson said about the never-changing Luke.
"Mine involves coconut milk, but I don't think hers does. I think she's at her same... straight up. Nothing fussy," Graham revealed about Lorelai's tried and true order.
"She goes for a dry cap. I just learned that that's a thing, it stays warm longer," Bledel explained about Rory's new coffee delight.
In addition to talking about the characters' favorite Netflix binge-watch series, Luke's is House of Cards and more TV-related topics, we also learned what Luke and Lorelai would be reading nowadays.
"Oh, The History of the Rothschilds," Patterson quickly answered.
"Mindy Kaling's most recent one," Graham added about Lorelai's clear love for pop culture and all-things Mindy Kaling, which we are big supporters of as well.
What do you think about the character's favorite TV shows? What do you think Emily Gilmore would be watching?