This might be the final nail in the coffin for any future "Gilmore Girls" sequels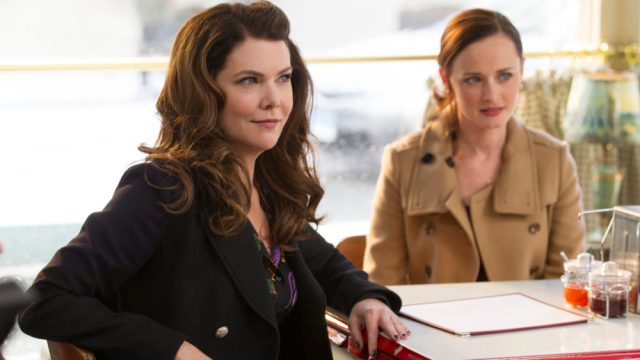 It's time to hunker down with some junk food and bottomless coffee, because it's looking like [spoiler alert!] we'll never learn who the father of Rory Gilmore's baby is.
Late last year, after being off the air for nearly 10 years, Gilmore Girls waltzed back into our lives — courtesy of Netflix and the genius minds of Amy Sherman-Palladino and Dan Palladino. Over the course of four feature-length episodes, we caught up with Rory, Lorelai, and the rest of our favorite Gilmore Girls characters.
Since Gilmore Girls: A Year in the Life's release, fans have speculated about the possibility of Netflix and Sherman-Palladino teaming up for more episodes. But now that the Gilmore Girls creator and her husband have signed an overall deal with Amazon, it's looking like we've seen the last of the Gilmores.
Amazon Studios, a top Netflix competitor, just announced that it has signed Sherman-Palladino and Palladino to a multi-year overall deal.
That means that the two will create more content for the streaming platform. This deal comes just months after their new pilot The Marvelous Mrs. Maisel was released to rave reviews, causing Amazon to pick the series up for two seasons.
"Amy and Dan are brilliant. Everything they create has such an incredible vision behind it. On top of that, they're wonderfully funny and smart people. Also, Amy has the best hats in show business, said Joe Lewis, head of Comedy, Drama and VR at Amazon Studios. "We're excited about the next two seasons of The Marvelous Mrs. Maisel with them and, with this deal, we can't wait to do a lot more together."
Mrs. Maisel follows the titular Miriam "Midge" Maisel (Rachel Brosnahan), a dutiful housewife in 1958 New York City who sets out on a quest to become a stand-up comic, with the help of comedy club manager Susie (frequent Sherman-Palladino collaborator Alex Borstein).
While we're so excited for the (Sherman-)Palladinos and can't wait to see more of their amazing content for Amazon, the deal does make it seem unlikely that they'll revisit Gilmore Girls for Netflix. At least, not in the near future.
Well, as Lorelai once famously said, "Oy with the poodles already!" And hey, we'll always have eight seasons of Gilmore Girls to binge over and over again.