Hold on to your poodles, Netflix is in early talks for more "Gilmore Girls"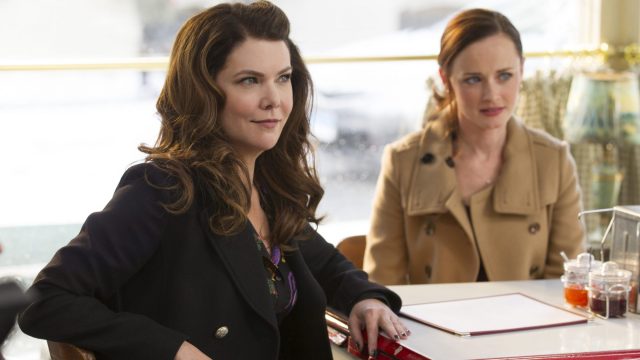 Sometimes you need more than another cup of coffee to really get your heart racing. Like say, news that Netflix is in "preliminary" talks to bring Gilmore Girls back for a second season.
Yes, you read that right.
Netflix's Chief Content Officer, Ted Sarandos, just so happened to tell the UK's Press Association that when it comes to another Year in the Life for Lorelai and Rory Gilmore, the streaming site and Warner Bros. are in "very preliminary" talks for more.
"Very preliminary" could mean one of a hundred different things, but right now, we're just happy that the TALKS are happening. Let's go ahead and hope they are talking as fast as they can to make more Gilmore Girls a reality.
"We hope [it happens], Sarandos explained. "We obviously loved the success of the show [and] fans loved how well it was done; it delivered what they hoped. The worst thing is to wait a couple of years for your favorite show to come back and for it to disappoint you, but [series creator Amy Sherman-Palladino and exec producer Dan Palladino] sure delivered and people were really excited about more. And we have been talking to them about the possibility of that."
Though Gilmore Girls tied up the great Lorelai and Luke love story, everything else was left open ended — especially considering those last four words. All along creator Amy Sherman-Palladino hinted that the initial story she wanted to start and finish (…way back in 2007) was done, but still, she was open to the possibility of more Lorelai and Rory later on down the road.
"We really had a very specific journey in our minds and we fulfilled the journey, she explained to The Hollywood Reporter back in November. "So to us, this is the piece that we wanted to do. And the whole thought about, 'Is there more, is there more, is there more?' — this has to go out into the universe now. We've got to put this to bed. And then whatever happens, happens.
It sounds like it's happening, and it's getting ready to start happening now. A Year in the Life came together very quickly, and A Year in the Life 2.0 could happen just as fast.
So, maybe don't put that Team Jess/Team Logan paraphernalia away juuuuust yet…