We might *finally* see this long-lost "Gilmore Girls" character during "A Year in the Life"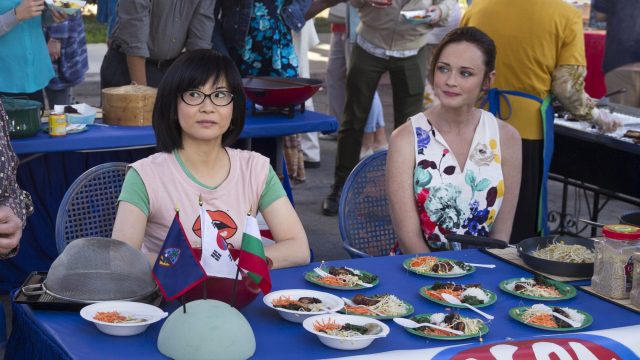 Are you aware that there's a Gilmore Girls character who has been discussed and referenced on the show, but we've never actually seen them? Yes, we're talking about the ~mysterious~ Mr. Kim, Lane's dad. He's been mentioned before in conversation, and Lane will oftentimes refer to her "parents," however, he's never shown his face in Stars Hollow. So where is Mr. Kim? What is he doing? And more importantly, is he showing up for A Year in the Life?
During the Gilmore Girls Fan Festival last weekend in Washington Depot, Connecticut (home of the IRL Stars Hollow), the on-screen absence of Mr. Kim was brought up maaaaany times. Each time, the question was kinda skirted around, rather than addressed head-on. Hey, if Mr. Kim isn't going to show up, it's okay to go ahead and say Mr. Kim isn't going to show up.
At the Gilmore Girls cast panel, Keiko Agena was directly asked about Mr. Kim. She didn't exactly answer:
"So Keiko," moderator Kevin Porter (of the Gilmore Guys) started. "For the people here, we're all super fans, we're all into the show, we're not going to ask you where Mr. Kim is." "Okay!" Keiko cheerfully replies. "We've moved passed that question...but seriously, where's Mr Kim?" "Kevin, you promised me!" Keiko responds, not as cheerfully.
During the crew panel, it was jokingly stated that there's actually a Gilmore Girls spin-off just about Mr. Kim.
"We're not supposed to talk about the spinoff all about Lane's dad, Gilmore Girls writer/producer Sheila Lawrence quipped. "The Netflix reboot is all about Mr. Kim.
From the balcony above the panel, Keiko popped her head out and waved, still once again, not exactly saying YES OR NO to the existence of Mr. Kim.
So where is he? Considering he's still being discussed — and joked — about, it seems like November 25th would be a perfect time to introduce him to the world.
And if not that, we will gladly accept that Mr. Kim spinoff.