Whatever you do, DON'T fast forward to the last ​~four words~ of "Gilmore Girls: A Year in the Life"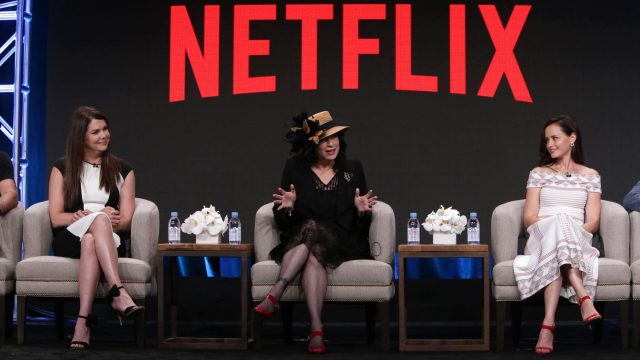 According to Gilmore Girls mythology (which is a thing we just created, because it should be real, it's about time) there's a foretold prophecy about ~four words~ that were supposed to be spoken at the end of the series finale.
However, these ~four words~ never happened, because Gilmore Girls creator and long-time showrunner, Amy Sherman Palladino (ASP), left the series at the end of Season 6. Season 7 continued on without her, and for a long time, it seemed like we were never going to hear this long-planned four word exchange, the cherry on top of a perfect Gilmore Girls run. So sad ?
HOWEVER, with the Gilmore Girls revival, A Year in the Life, coming to Netflix, ASP is returning to the Gilmore Girls throne and now has the chance to finish the show how SHE wants with those last four words.
But please, please Gilmore Girls friends, for the sake of Lorelai and Rory and Luke and Sookie, don't fast forward to the very end of the very last episode ("Fall") to find out what they are. ASP is begging you not to.
"It would be great if people who wanted to see the last four words first got some therapy first and got rid of that inclination," She explained during the Gilmore Girls panel at Netflix's TCA press tour. "It really is a journey… It's going to mean a lot less if you just flip to the last page. I would hope that people would want to take the whole trip. It's a fun trip. It's worth it."
She also knows that we're setting ourselves up for VERY HIGH expectations with these ~four words~, and takes the time to remind us that we can't always get what we want. Hey, we're getting more Gilmore Girls episodes, and tbh, that should be enough.
"It's such a journey and it's such a build to the last four words… However, you don't always get what you want. I don't have the ass I want. The good outweighs the bad in the sense that this is a wonderful place to create things and do things in a different way."
In case you've somehow missed the trailer — which is undoubtedly the most important thing on the internet today — check it out again and again below. Gilmore Girls: A Year in the Life lands on Netflix on November 25th. 
https://www.youtube.com/watch?v=fTnU5MG5Edw?feature=oembed