The latest "Gilmore Girls" promo image reveals GREAT news about our fave fictional band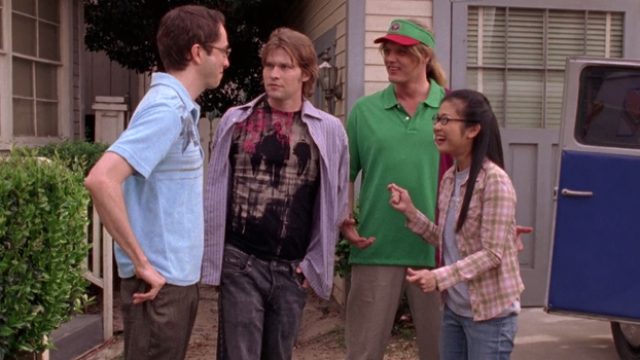 As long as we have the Gilmore Girls revival on the horizon, the future is as bright as the bulb in Lorelai's monkey lamp. Yet, while we wait for the four-parter to premiere, we have all the GG promo images to prepare us for the wave of nostalgia that's before us. Thanks to such photos (which have been posted on the show's official Instagram), we now have an inkling that the reboot will include plenty of references to the original series and there may even be a pregnancy(!!).
Yet, one thing we pretty much know for sure is this: Hep Alien is making a comeback! 
Back in March, John Cabrera (who plays band member Brian Fuller) posted a revealing photo on his Instagram and captioned it: "Four people who have been trying to get in another shot together for almost a decade. #ilovethesekids."
In the image, you can see Lane Kim (played by Keiko Agena), Zack Van Gerbig (Todd Lowe), Gil (Sebastian Bach), and of course Brian Fuller (John Cabrera). So, while we knew that there was going to be a Hep Alien reunion of some sort, we didn't know just how big this reunion would be… until now!
Thanks to the latest promo image on the Gilmore Girls Instagram, we have a feeling that Hep Alien's doing quite well in the reboot:
"Follow Them to the Edge of the Desert was too long," reads the caption accompanying a photo of Lane's drumset (with "Netflix was here" sneakily etched upon it), referencing what Zach originally wanted to name Hep Alien. However, they didn't settle on this moniker because (even without an inhaler) it was too long.
While we don't know if Hep Alien has made it big at this point in time, the above photo gives us hope that they're at least rocking out together. After all, last we saw, the band was no more after Lane gave birth and Zach went off to join another band (with Lane's blessing of course!).
Hey – maybe Hep Alien is even still popular amongst Seventh Day Adventists churches!