There are now "Gilmore Girls" Luke's Diner coffee pods, and just take all our money
Coffee is important in life, but sometimes  you just don't want to brew up a fresh pot yourself, you know? Making coffee can be a difficult, tedious process, and it has to be JUST RIGHT or the coffee might not be up to snuff. This is why it's always easier just to head down to Luke's Diner and get HIM to make you coffee.
But, if Luke isn't readily available, that means you've got to make it yourself, and ugh. All the measuring, and pouring, and hot water. Blah. Wouldn't it be easier just to, idk, pop in a coffee pod from Luke's Diner, so you can brew up some ~Gilmore Girls~ magic in your own kitchen?
If this sounds like the Gilmore Girls coffee DREAM, you are in luck. Our friends at Urban Tee Farm have rolled out Luke's Diner coffee pods, and this is the best news we're going to hear all day.
As Urban Tee Farm writes on their website, these coffee pods are "basically like having Luke in your kitchen," and we 100% agree. The flavor is Breakfast Blend, which is good because that's most important meal of the day…and also most important coffee, too.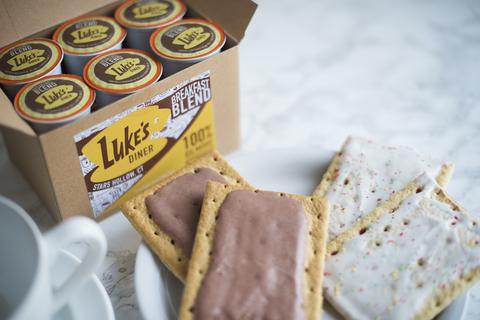 Wou can snag a box for yourself, 12 single serve cups for $19.99. That's a small price to pay for the smell of delicious, hot Luke's coffee wafting through your kitchen.