Hold up — there's still a chance we could get more "Gilmore Girls" on Netflix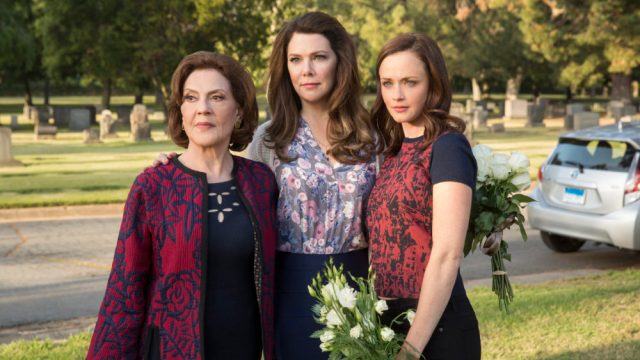 It's safe to say that since Amazon Studios announced a new overall deal with Gilmore Girls creator Amy Sherman-Palladino and Dan Palladino, we've been panicking about the beloved show's future over on Netflix.
After nearly 10 years off the air, Gilmore Girls returned to Netflix — a top Amazon competitor — late last year with four feature-length episodes. Since the revival's release, Gilmore Girls: A Year in the Life, many fans have speculated about whether the Palladinos would return to Stars Hollow for a second season of the revival.
Because more Gilmore Girls *could* happen over at Netflix.
The overall deal with Amazon Studios comes after Sherman-Palladino and Palladino's new pilot, The Marvelous Mrs. Maisel, was met with immediate acclaim, resulting in Amazon picking it up for two seasons. The deal will ensure that the Palladinos create more content for the streaming platform.
But according to TVLine, that doesn't mean Gilmore Girls will no longer stream on Netflix.
The Amazon deal reportedly has a specific clause that would allow Sherman-Palladino and Palladino to work on more Gilmore Girls *if* the revival were to move forward with a second season. So that takes care of the contractual obligations that could potentially cause problems for Gilmore Girls at Netflix, but it still doesn't mean more Gilmore Girls is a sure thing.
Since A Year in the Life's release, the Palladinos and stars of the iconic TV series have remained adamant that another season of the revival would only work if the story called for it AND if schedules lined up. So while it's unclear whether or not we'll return to Stars Hollow for more Gilmore Girls, we at least know that the Amazon deal isn't going to stand in the way.
The full first season of The Marvelous Mrs. Maisel is expected to be released on Amazon sometime toward the end of this year.