"Gilmore Girls" might not return to Netflix, but it could find a home at Amazon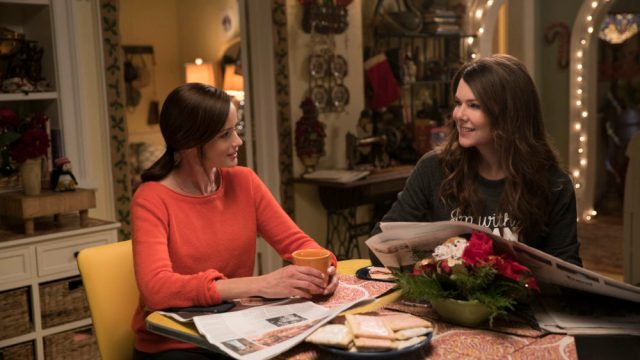 While we're so excited that the Gilmore Girls creators have secured a deal with Amazon, we're still struggling with the idea that Gilmore Girls could be over FOREVER.
Since Netflix brought the series back for four feature-length episodes last year, we've been holding out hope that Netflix, Amy Sherman-Palladino, and Dan Palladino would team up for even move Gilmore Girls. But now that the Palladinos have a deal with Amazon — a top Netflix competitor — it's certainly looking like another Gilmore Girls revival at Netflix *isn't* going to happen. At least, probably not in the near future.
But that doesn't necessarily mean that more Gilmore Girls is off the table…for Amazon!
While it doesn't look like Gilmore Girls has a future over at Netflix, there *is* a possibility that the show could move over to Amazon for future episodes.
Sherman-Palladino and Palladino's overall deal with Amazon Studios arrives after their new pilot, The Marvelous Mrs. Maisel, was picked up by the studio for two seasons. The series follows the titular Miriam "Midge" Maisel (Rachel Brosnahan) as she embarks on a stand-up comedy career in 1958 New York City.
"Amy and Dan are brilliant. Everything they create has such an incredible vision behind it. On top of that, they're wonderfully funny and smart people. Also, Amy has the best hats in show business, said Joe Lewis, Head of Comedy, Drama and VR at Amazon Studio, in a statement. "We're excited about the next two seasons of The Marvelous Mrs. Maisel with them and, with this deal, we can't wait to do a lot more together."
Sherman-Palladino and Palladino's overall deal with Amazon means that the duo will create more content for the streaming platform, and while it doesn't definitively mean more Gilmore Girls, it certainly could mean more episodes in the future.
We're keeping our fingers crossed and having a cup of coffee in Lorelai's honor in the hope that Gilmore Girls has a future at Amazon.