Gillian Anderson admits she feels self-conscious about aging sometimes
This is Gillian Anderson. You may know her from her iconic role as FBI Special Agent Dana Scully on The X-Filesor as Metropolitan Police Superintendent Stella Gibson in the critically-acclaimed and feminist series The Fall. She's also a seemingly relentlessly energetic activist, supporting causes like The Trevor Project, SAYes, Neurofibromatosis Network, and more. But she's also a mere mortal who worries about aging as much as we do.
In an interview with NewBeauty, Anderson got real about getting older:
"There will always be the desire, as women see themselves getting older, to stop the process. Ultimately, it comes down to embracing that process and embracing one's self at the age that one is, which is hard. I'm sure I'll find myself along the way in some situations saying, 'Do I, should I, would I?'"
So many women face the insane pressure to look youthful, often equating youth with beauty. It doesn't help that the entertainment industry (and our culture as a whole) celebrates youth, setting unrealistic expectations for so many women (and men). It's unfair to send the message that aging is a flaw to be covered up and fixed — but it's one we see over and over again in movies, TV shows, and magazine covers.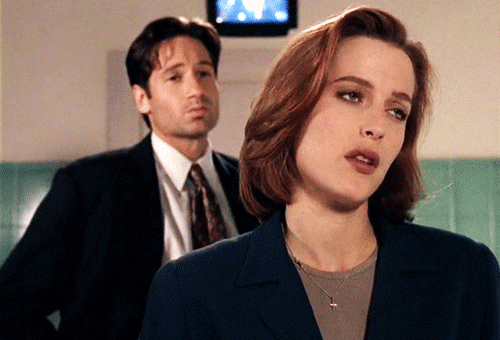 Gillian also talks about how aging is perceived differently in the U.K. and America. In the U.K., she argues that women don't pay as much attention to the way they age.
"I tend to observe women in the UK approaching it less obsessively, than say, those in Los Angeles. There seems to be less of a preoccupation with it and more of an acceptance of the natural face and the natural aging process. I think in Europe, in general, there's a sense that women who age naturally can be beautiful, whereas I'm not so sure that's the perception in America, specifically in L.A. I think that it's seen as a flaw somehow, like wrinkles are a flaw."
PREACH, GILLIAN.
Just a few months ago, Gillian had to shut down some haters who tried to shame her about the way she has aged. The Daily Mail published an article dissecting every line and curve of her entire face and insinuated that she must have had some work done to look so youthful (that this is news is nauseating).
Gillian had the best response, tweeting, "If it weren't so sad, this bollocks would have made my day." false
So, it's safe to say Gillian's got this.