Gigi Hadid's pixie cut is making us want to get a drastic chop this summer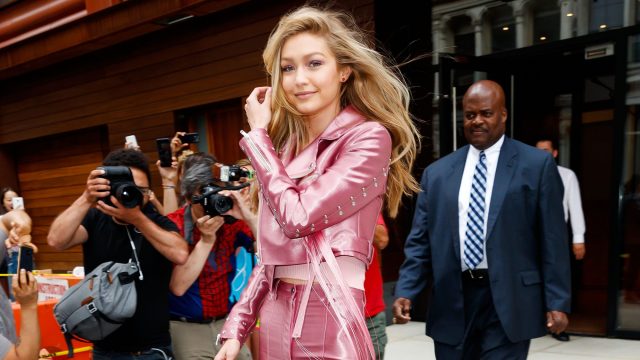 During the hot dregs of summer, we're always so tempted to chop off our hair. It would be so much easier, we say. It would be cooler and less of a frizzy mess. Now, after seeing Gigi Hadid's new pixie cut (which is actually just a wig), those hair chopping urges are stronger than ever and we're doing all we can to resist them.
Hadid swapped her long locks for a short Jean Seberg-inspired pixie for Stewart Weitzman's latest campaign. We're digging her entire mod look. Hadid posted a photo of her Mario Testino portrait on her Instagram and assured fans that #itsawig.
Even though #itsawig, we're thinking this would be a great permanent look for Hadid! Her jawline is super sharp and all attention is drawn to her eyes thanks to the crop.
Now that we're thinking about it, perhaps everyone should chop off their hair for the summer. Right? We should definitely take the plunge. Right?
And who wouldn't want to look like the iconic French actress, Jean Seberg? She was absolutely stunning in her short 'do.
But we get it. It's a big commitment to say bye-bye to your long hair. For those of us who have gone down the pixie path before, we know how long and tedious that growing-out period is.
Maybe wigs are the answer. Perhaps, like Hadid, we can just fake it until we make it. And because it's wig, we can alternate between short and long all summer long and give our friends and family hairstyle whiplash.
https://www.instagram.com/p/BWdRpgcBmo7
Whether you (or we) decide to dive into a pixie for the summer season, rock it '60s-style like Gigi Hadid. Like every mom says about vegetables, you don't know you don't like it until you try it! The same goes for a pixie cut.