Gigi Hadid and Zayn Malik were spotted kissing — but we can only focus on the new tattoo on Zayn's skull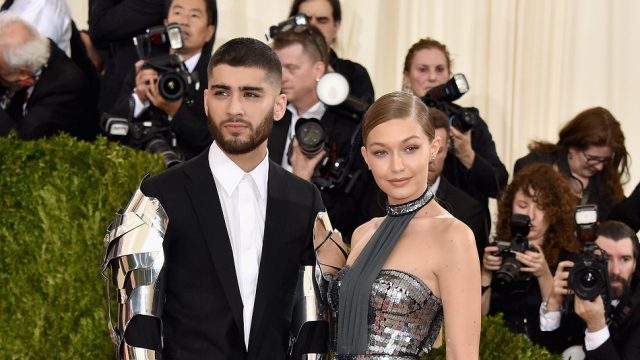 We've just heard some fascinating news on the celebrity breakup front. Gigi Hadid and Zayn Malik were spotted kissing in New York City on Sunday, April 29th. As fans will undoubtedly recall, the couple officially parted ways back in March, leading many to wonder if they're giving things a second chance. And while we, too, are insanely curious, it's Zayn's new skull tattoo that's leaving us with the most pressing questions.
Zayn, formerly of One Direction, is no stranger to tattoos. He reportedly has dozens of them. But we had no clue that he was so deep into the world of skull tats. Right after the breakup was initially announced, he got a rose inked on the back of his head (fans had mixed reactions, naturally).
And now Zayn's also rocking a shaved head and what looks like even more ink around his ear (we did a little digging, and it looks like he initially revealed the tattoo on Instagram a few days ago, but the photo's shadowing made it hard to see).
Zayn and Gigi were first romantically linked in 2015, and they dated for two years before announcing their split on March 13th. Many fans were taken by surprise by the announcement, as the couple seemed pretty serious, even spending holidays with each other's families.
While they haven't openly addressed whether a  reconciliation has officially occurred (and honestly, we respect their right to keep all details to themselves), we'll be happy for more intel should they decide to share. And if Zayn wants to spill on the meaning behind that new skull tat, we're here for that as well.
You can see the recent kiss photos (as well as a very clear shot of the new tattoo) here.