Gigi Hadid has a personalized Snapchat filter, and we want one!
Despite being an international supermodel and fashion icon, Gigi Hadid was just like us when it came to Snapchat. Now that's all gone out the window. Because Gigi Hadid has a personalized Snapchat filter, and we want one! Not only is she stunning the world in real-life, her Snapchat filter is doing the same online.
In addition to running around Paris for Fashion Week, Gigi shared a snap from her hotel room. Unfortunately, Gigi was feeling under the weather — which is why she is pictured wearing a mask. But being sick didn't stop the model from rocking an amazing Moschino couture shirt.
Or showcasing her brand spanking new personalized Snapchat filter
.
In order to fully appreciate this, pay close attention to the bottom right corner of the picture. Gigi Hadid's likeness is strutting down the runway in a sleek black dress and strappy heals. Her hair is done in that perfect beach-ready way, and her cheekbones pop even in a two-dimensional rendering of her.  Plus, if you weren't 100% sure who she was — "Gigi à Paris," surrounded by roses should give you a clue. (That's "Gigi in Paris," for you non-French-speakers out there.)
Gigi has been tearing up the Paris streets for Fashion Week, rocking one head-turning outfit after another.
Here she is on the runway at the Isabel Marant show.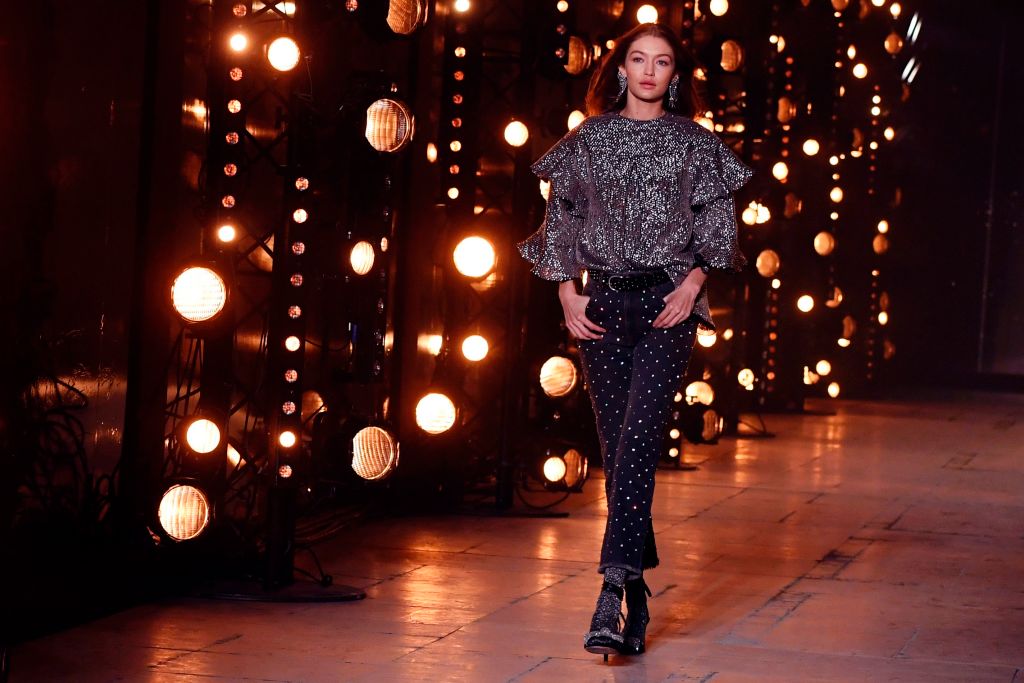 She's also been spending time with her bae Zayn Malik.
Basically, the only thing missing from the trip was her very own personalized Snapchat filter. Luckily, the company was all over that.
Gigi Hadid is a big fan of the app and is constantly using their filters.
Not only does she use them herself, she often incorporates her friends in the shots.
If you are looking to get your very own personalized filter, don't loose hope. You can get one for your wedding or special event. But unless you are Gigi Hadid, it won't be free. Here is to hoping we see more Gigi-fied filters on Snapchat soon!