Gigi Hadid and Karlie Kloss are teaming up to help save elephants with this awesome campaign
Elephants are some of the most beautiful creatures on our planet, but sadly, they're also some of the most endangered. According to the Elephant Crisis Fund, over 30K elephants are killed each year.
Over a third of Africa's elephants have been wiped out in the past seven years. Those numbers are staggering and terrifying.
Elephant poaching is a serious problem, and the fashion industry is stepping up to help make a change.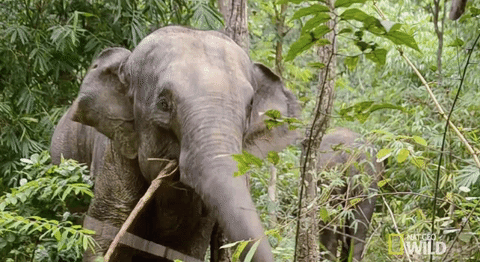 The "Knot On My Planet" campaign launched on Friday at New York Fashion Week and took over Twitter  in a big way, with celebrities and fashion designers posting all types of images and videos of knots to raise awareness — and ultimately, money — in the fight against elephants being slaughtered all over the world for their tusks and ivory.
Knotted shirt, scarves, and phone cords – all to show their solidarity against elephant poaching.
Model Doutzen Kroes, the Knot On My Planet campaign spokesperson, posted a video explaining the purpose of the campaign — which is to urge people to donate to the Elephant Fund Crisis.
Other models are also tying knots for this very important reason.
Like Gigi Hadid:
Karlie Kloss:
Naomi Campbell:
Emily Ratajkowski: false
And Karolina Kurkova:
Knot On My Planet's fundraising goal is $15 million (which they will hopefully surpass), and the money goes directly to ending trafficking, poaching, and the demand for ivory. For more information on how to get involved, click here.