Gigi Hadid reportedly will not serve as a juror in Harvey Weinstein's trial
Update, January 17th, 2020, 11:05 a.m.: After reportedly being part of a pool of potential jurors, Gigi Hadid has been dismissed from the Harvey Weinstein trial, according to Page Six. There's no word on why, though Hadid does have connections to multiple people involved in the case, including Weinstein, Cara Delevigne, and Salma Hayek. Hadid had previously reportedly told the judge that she believed she could "keep an open mind on the facts" and remain impartial.
Though she won't serve as a juror, she still is a great example of showing up for your civic duty.
Original post, January 14th, 2020: Gigi Hadid was spotted leaving a New York City courthouse on Monday, January 13th, after being called in as a potential juror in Harvey Weinstein's upcoming trial. The 24-year-old supermodel was among 120 potential jurors, according to The Hollywood Reporter, and told Judge James Burke that despite having met the disgraced movie producer, she believes she could remain impartial if selected for the jury.
"I think I'm still able to keep an open mind on the facts," Hadid said.
However, she does have other conflicts of interest that could get her dismissed, including her friendship with Cara Delevingne, who made accusations of sexual harassment against Weinstein in 2017 and has talked about the #MeToo movement.
Also, after reading a list of potential witnesses, Burke asked if they knew of anyone on the list—and Hadid reportedly raised her hand and said, "I have met Salma Hayek."
In 2017, Hayek accused Weinstein of sexual harassment in a powerful New York Times piece, calling him a "monster" and claiming he threatened her life and her career.
It's still unclear whether Hadid has officially been preselected at this time, but a Fox News correspondent noted that she was among 35 potential jurors who were asked to fill out a questionnaire and return to court on Thursday, January 16th.
Last week, Hadid posted an Instagram Story revealing she had been summoned for jury duty and was "excited" at the opportunity even though it was probably going to "suck."
"This week a dream came true," she wrote on January 5. "I've been summoned for jury duty, y'all. I'd like to thank the state of New York. My mom and @vesperw seemed concerned by my genuine excitement...I realize it will prob suck. Let me dream."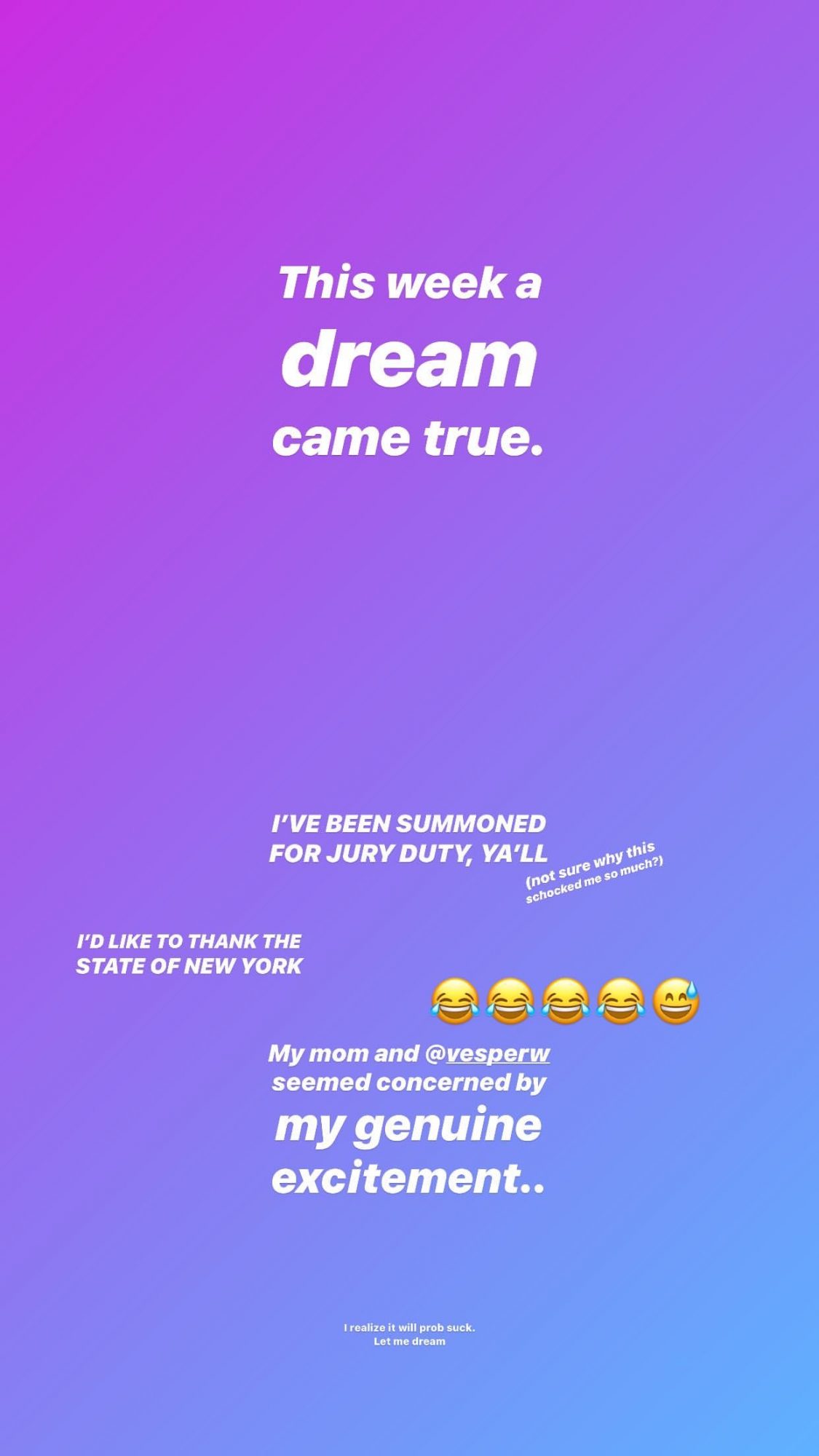 Little did Hadid know she was being called in for one of the most important cases of this decade. Since 2017, more than 80 women, including many famous Hollywood stars, have accused Weinstein of sexual misconduct. Though he's denied the accusations and has pleaded not guilty, the allegations helped fuel the #MeToo movement and give millions of women the courage to speak out against their own predators.
His trial began on January 6th and could last up to two months, according to the New York Times. If convicted, Weinstein could serve the rest of his life in prison.