This is how to do Gigi Hadid's glitter glam runway makeup right at home
Ever see a makeup look that makes you think, "Good lord, if only my younger self was alive to see this"? That's how I felt upon seeing Gigi Hadid during last week's Fendi show at Paris Fashion Week. Bunches! Things stuck in these bunches! Eyeliner pointing outwards in every direction! Glitter! On! Her! Lips!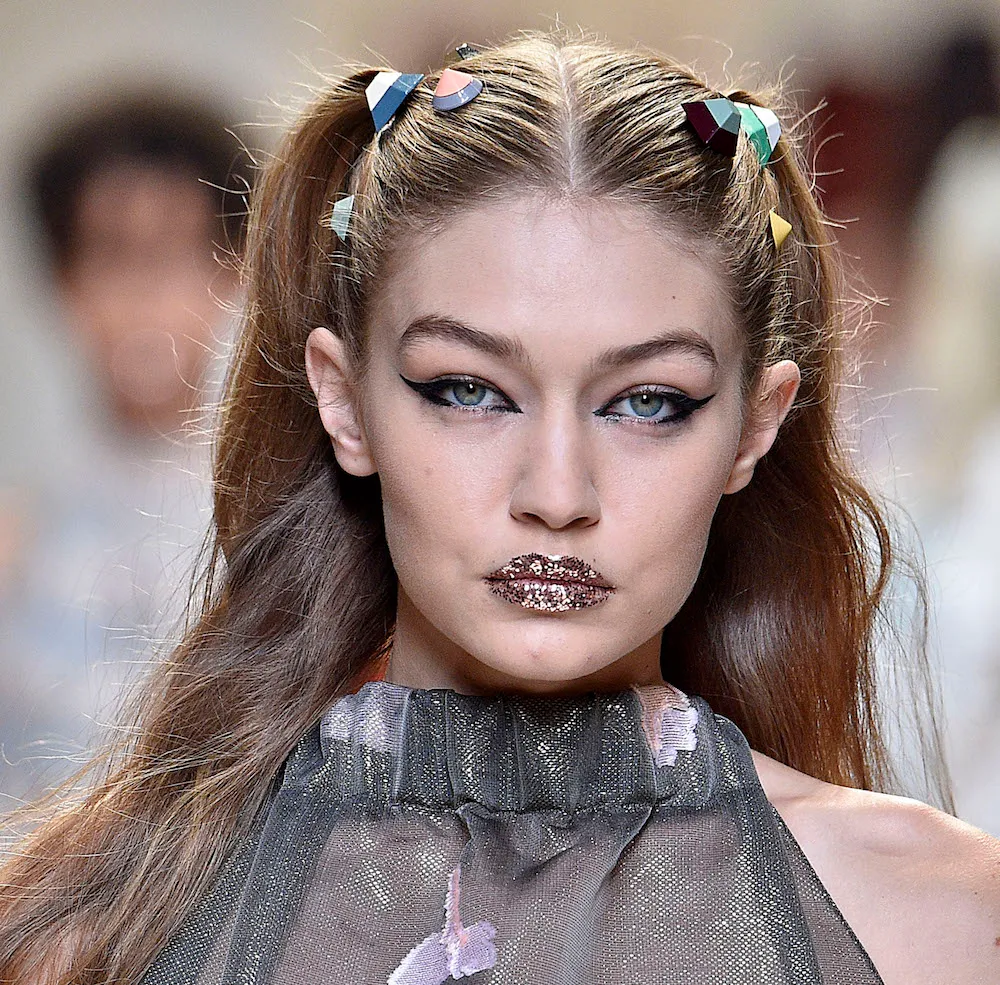 Honestly, this speaks to me on a different level, so I decided to try it using stuff I already have, and thus maybe you have, and can too. Makeup should be about joy, and this look is the clearest physical embodiment of pure joy I've seen in ages.
First things first, you'll want that Gigi Hadid skin.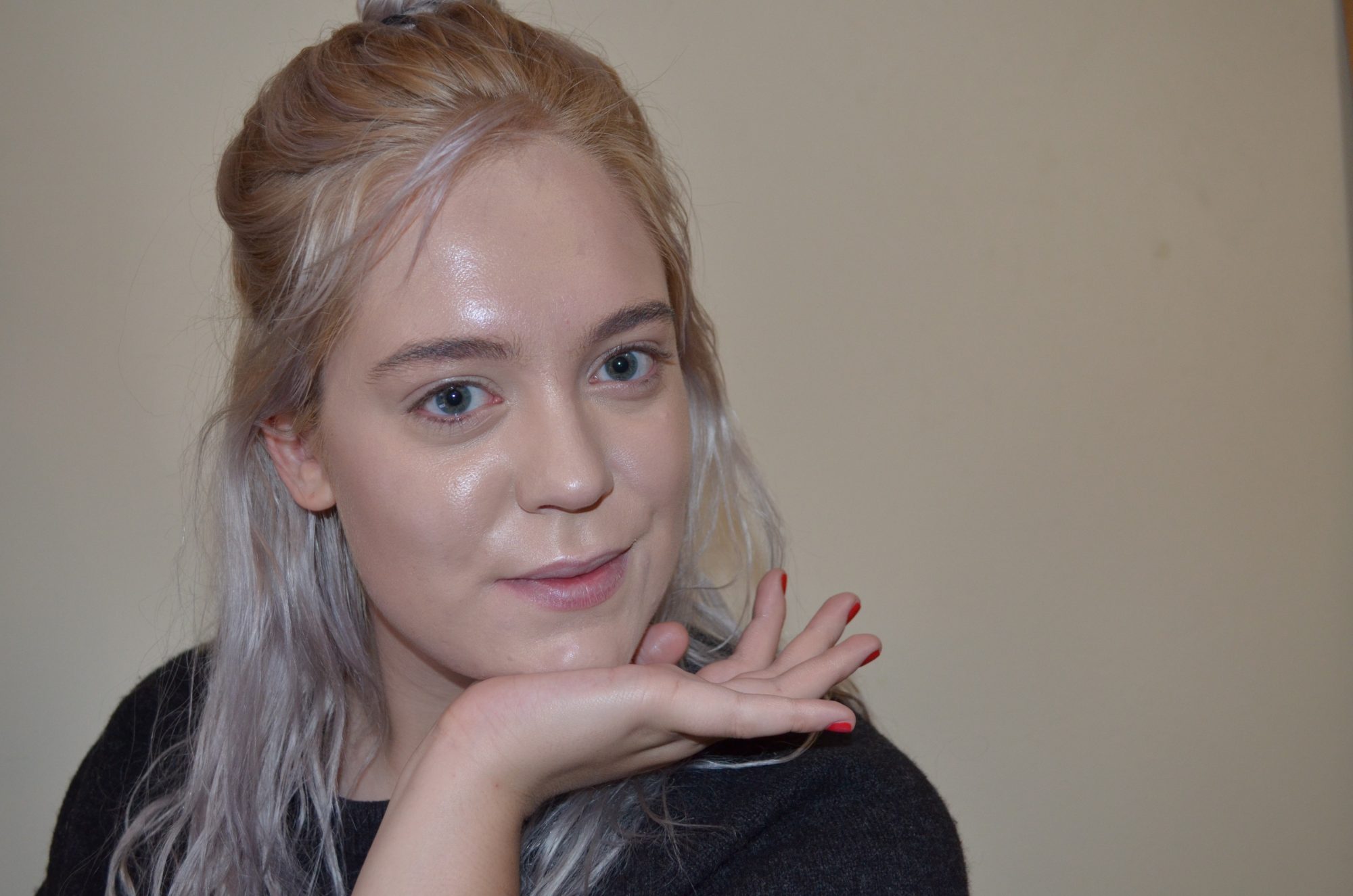 Impossible, but worth a try. She looks super moisturized, pale and glowy, so I mixed my Kryolan Shimmering Event Foundation in Silver with my Vichy Derma Blend in about a half and half ratio. The mix gives good coverage and an amazing, angelic glow, with great lasting power. The silver-ish tone of the Kryolan pales out the Vichy for a hint of ghostliness. I applied with fingers for a natural (lazy) finish.
Next, eyebrows. Gigi's are super textured and hairy, which I achieved by using the Surratt Brow Pomade.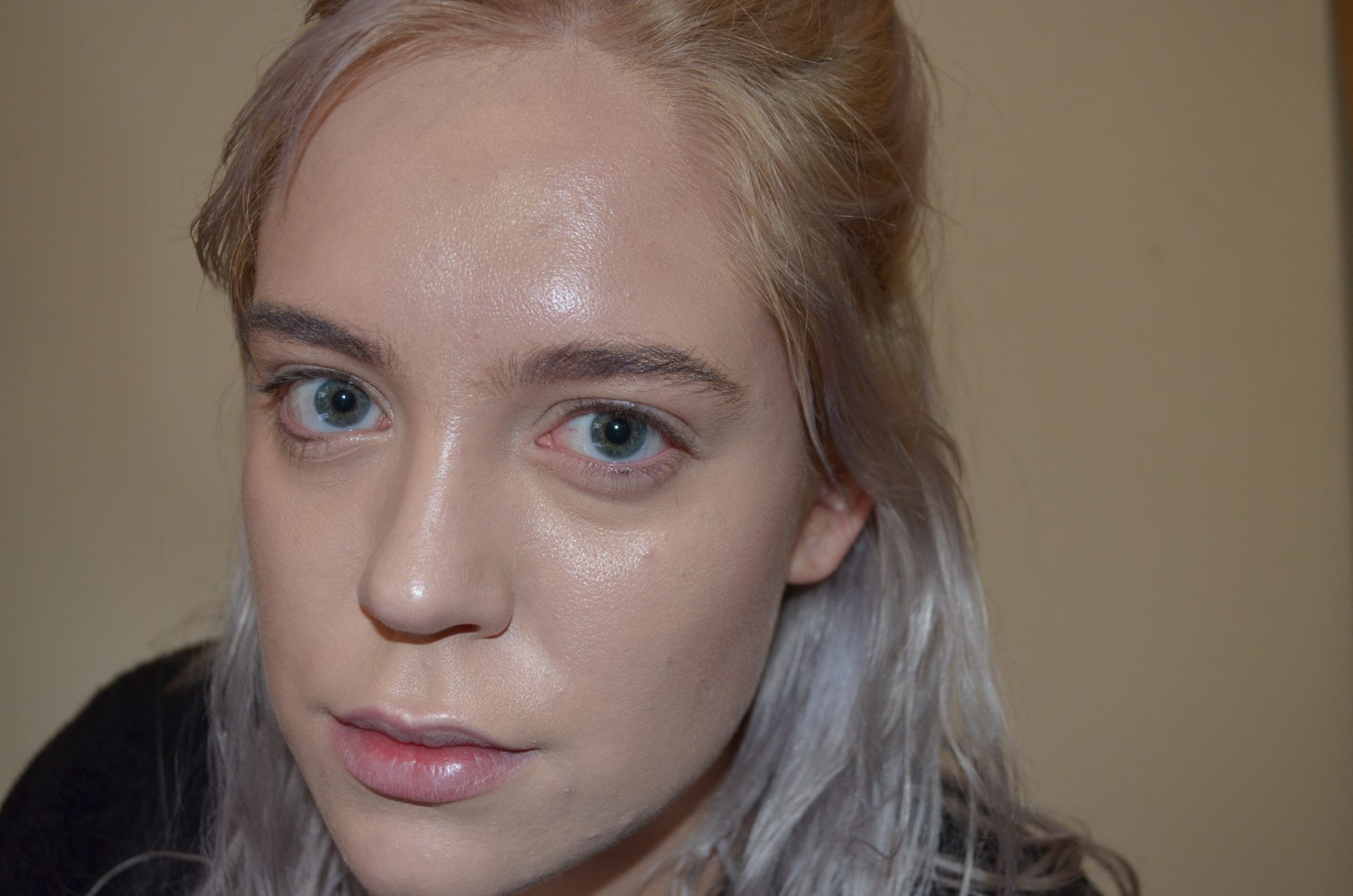 This gives great fluffiness and defines hairs in a really natural way. Comb upwards for long-lasting eyebrows that actually look like a bunch of individual hairs.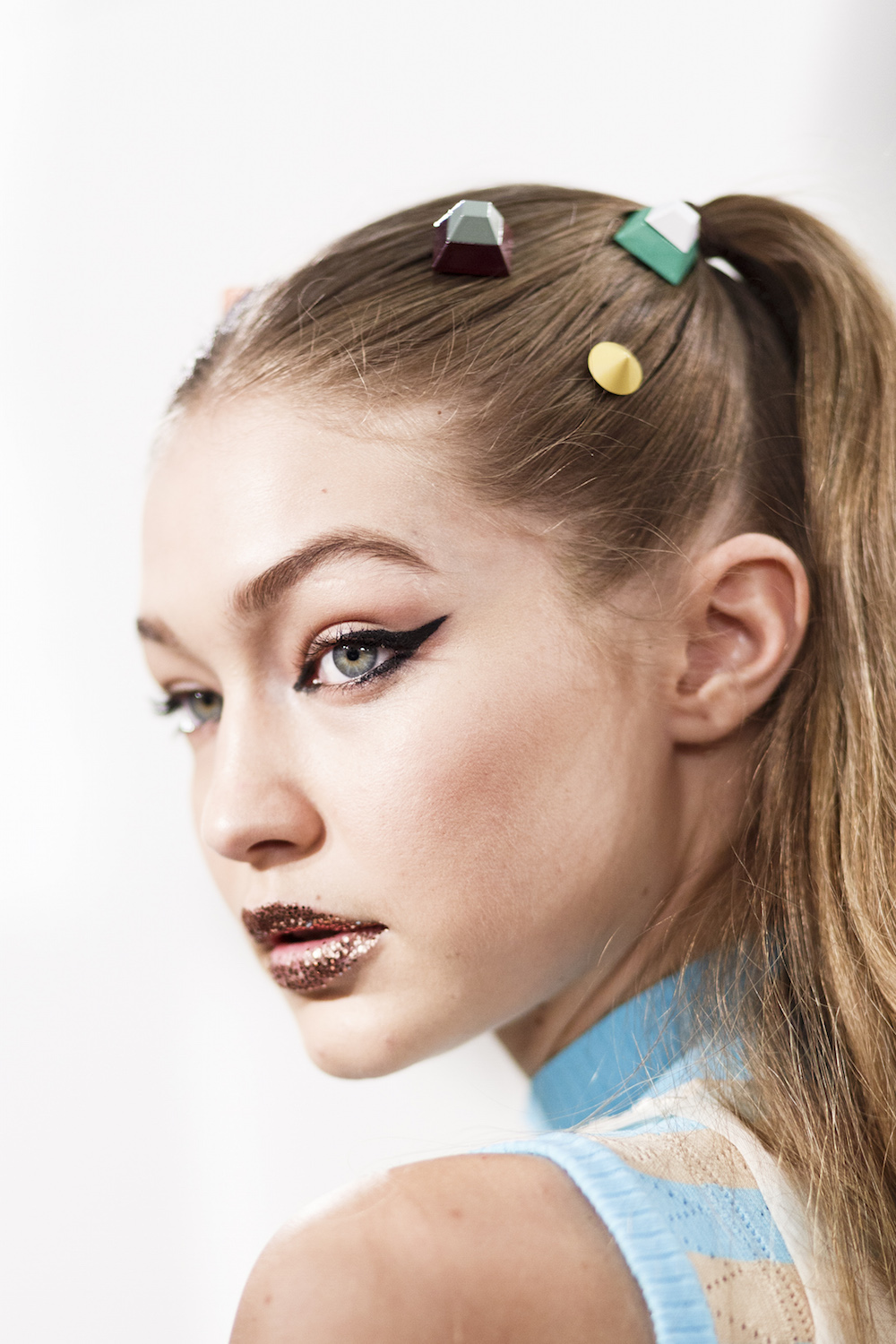 From what I can gather by staring for hours at these photos, Gigi is only wearing a little bit of warmish contour on her cheeks. I used the L'Oreal Infallible Sculpt Contour Palette, predominantly because it is creamy and thus easy to blend and gives a natural finish, again with fingers. Fingers are the best face makeup tool, in my opinion.
Now for the fun stuff. Eyes were achieved using the Rimmel ScandalEyes pencil in black – this is super pigmented and smudgy but sets down after a while.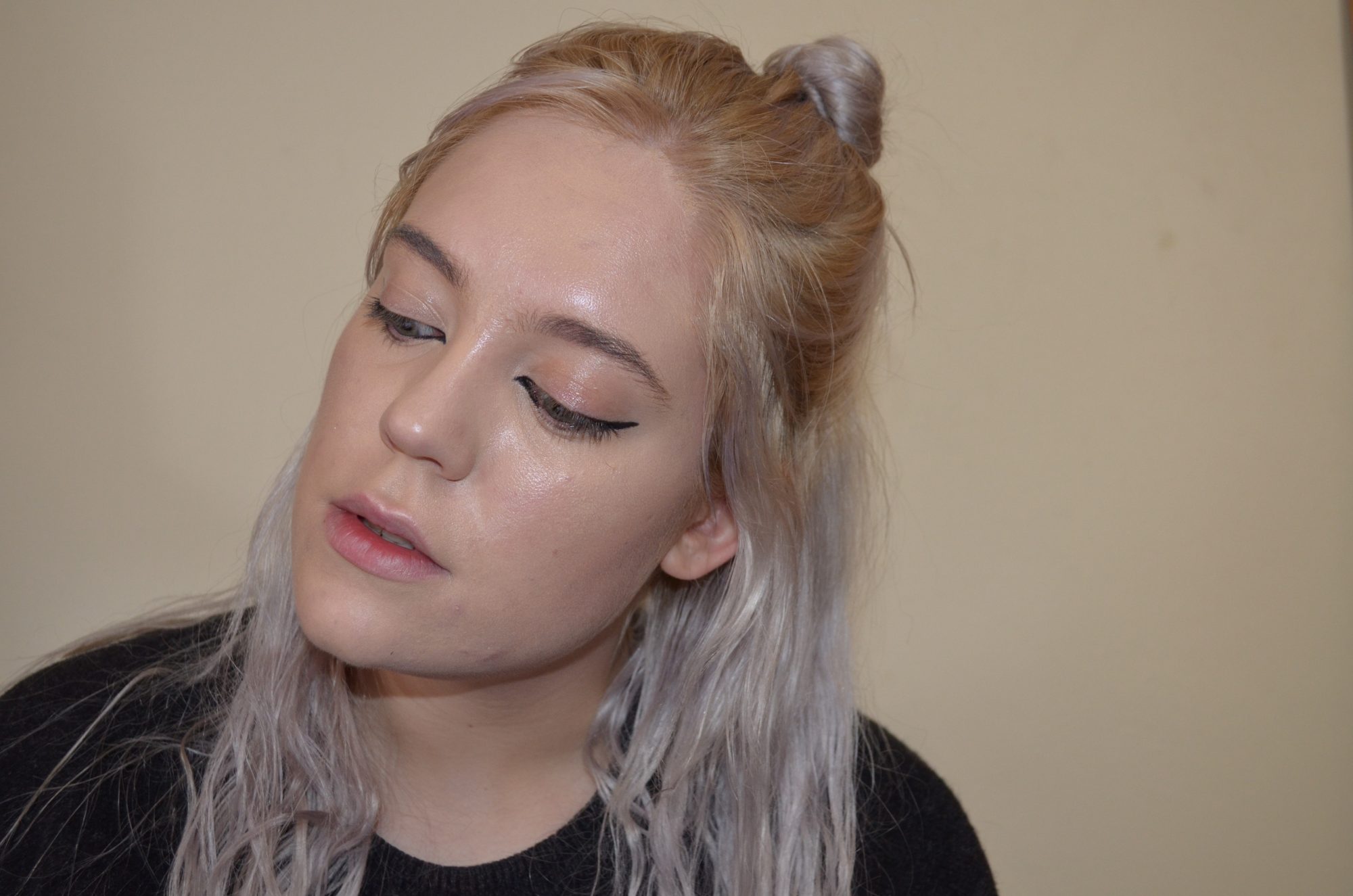 I find gel pencils SO much easier than brushes and pots. You'll want to draw a flick on your inner corner and outer corner, but don't connect them. Keep a sharpener handy because you'll want the pencil tip as pointy as possible. The middle sections of your eyes should remain eyeliner free.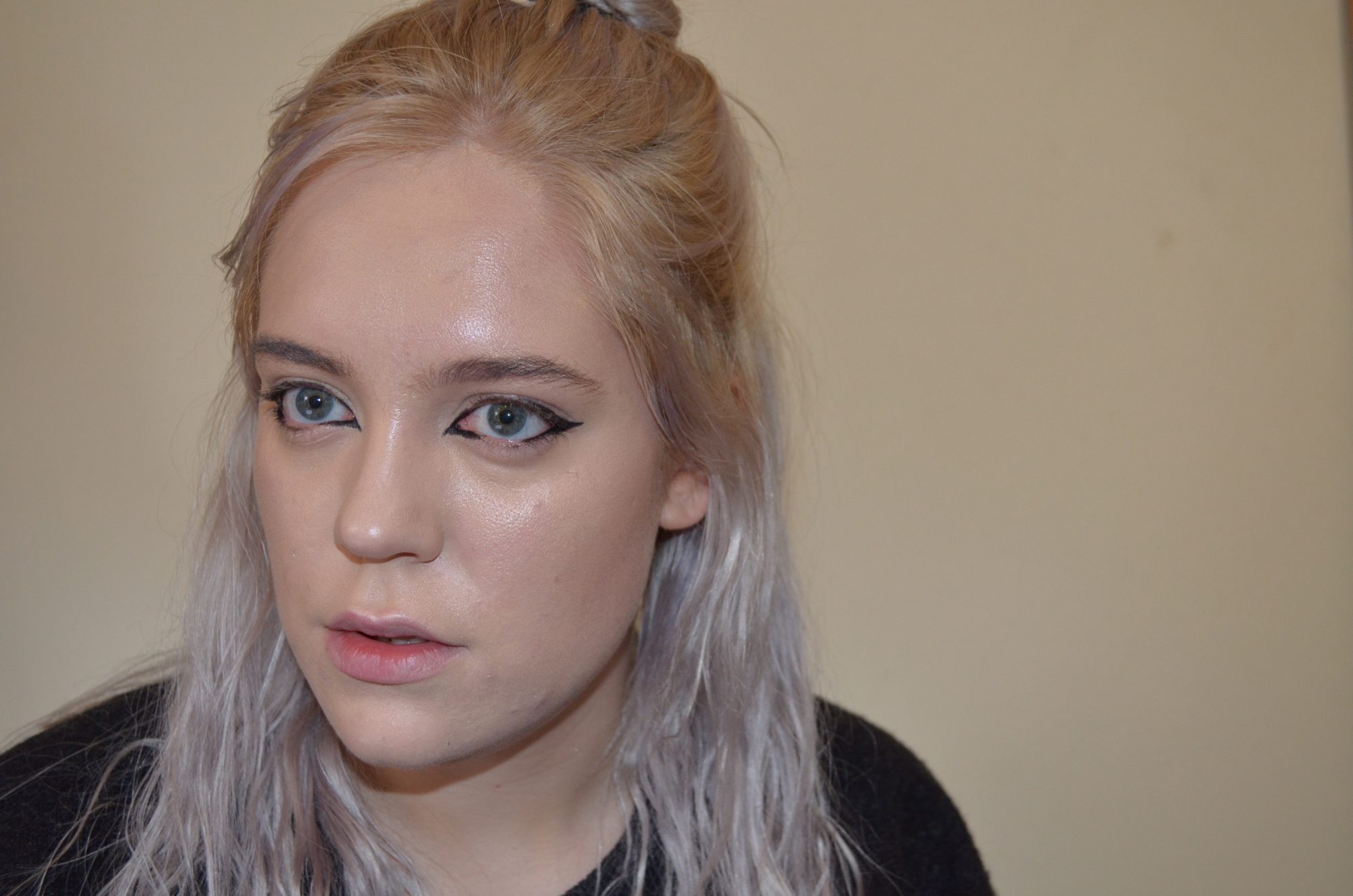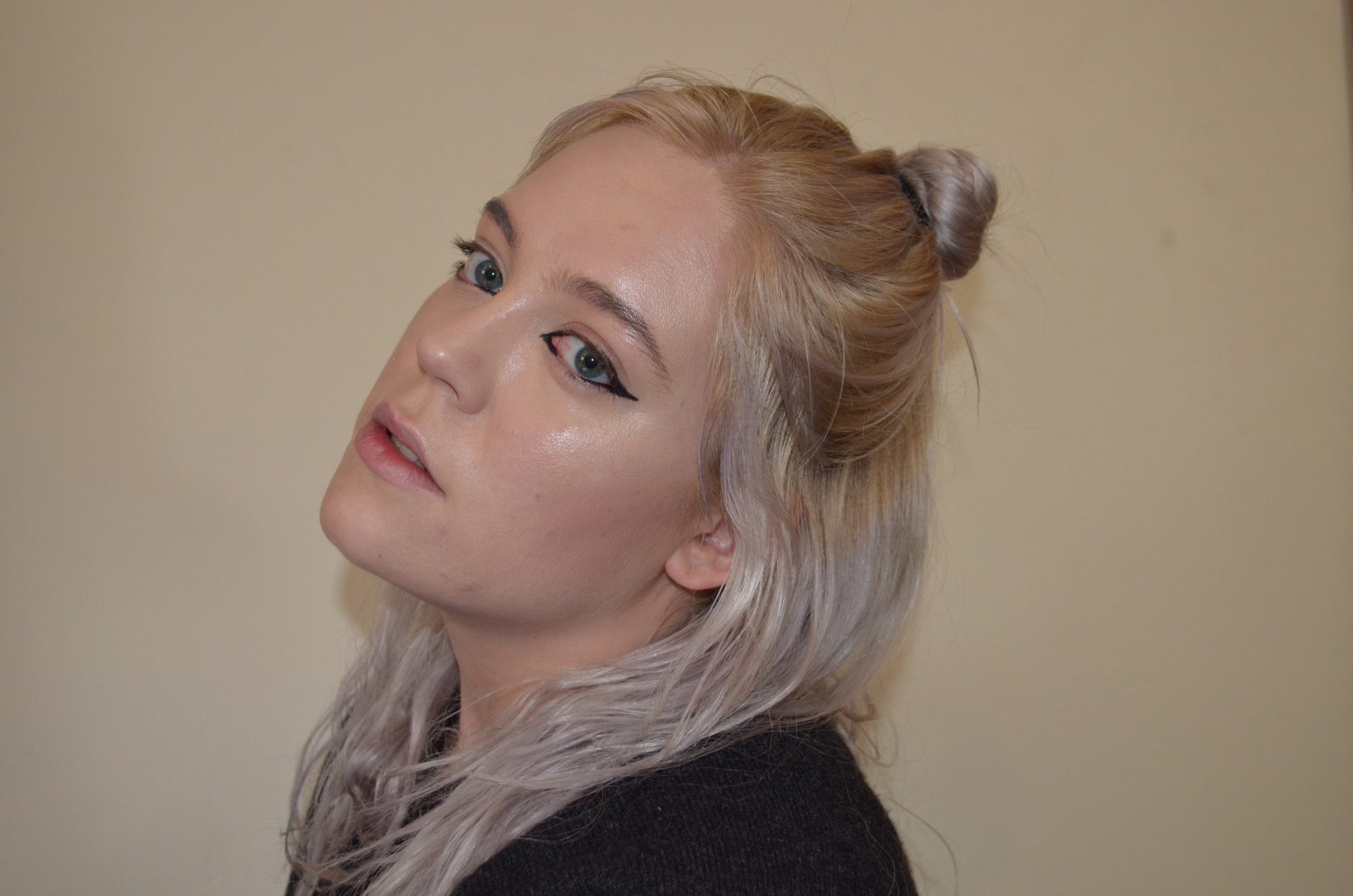 Once the basic shape of the flicks was traced, I crisped up the edges using a liquid eyeliner. I love the Collection Fast Stroke liner, but you can only get it in the UK. The Rimmel Exaggerate Liquid Eyeliner is similar, though. You just want something super black with a fairly firm, pointy nib.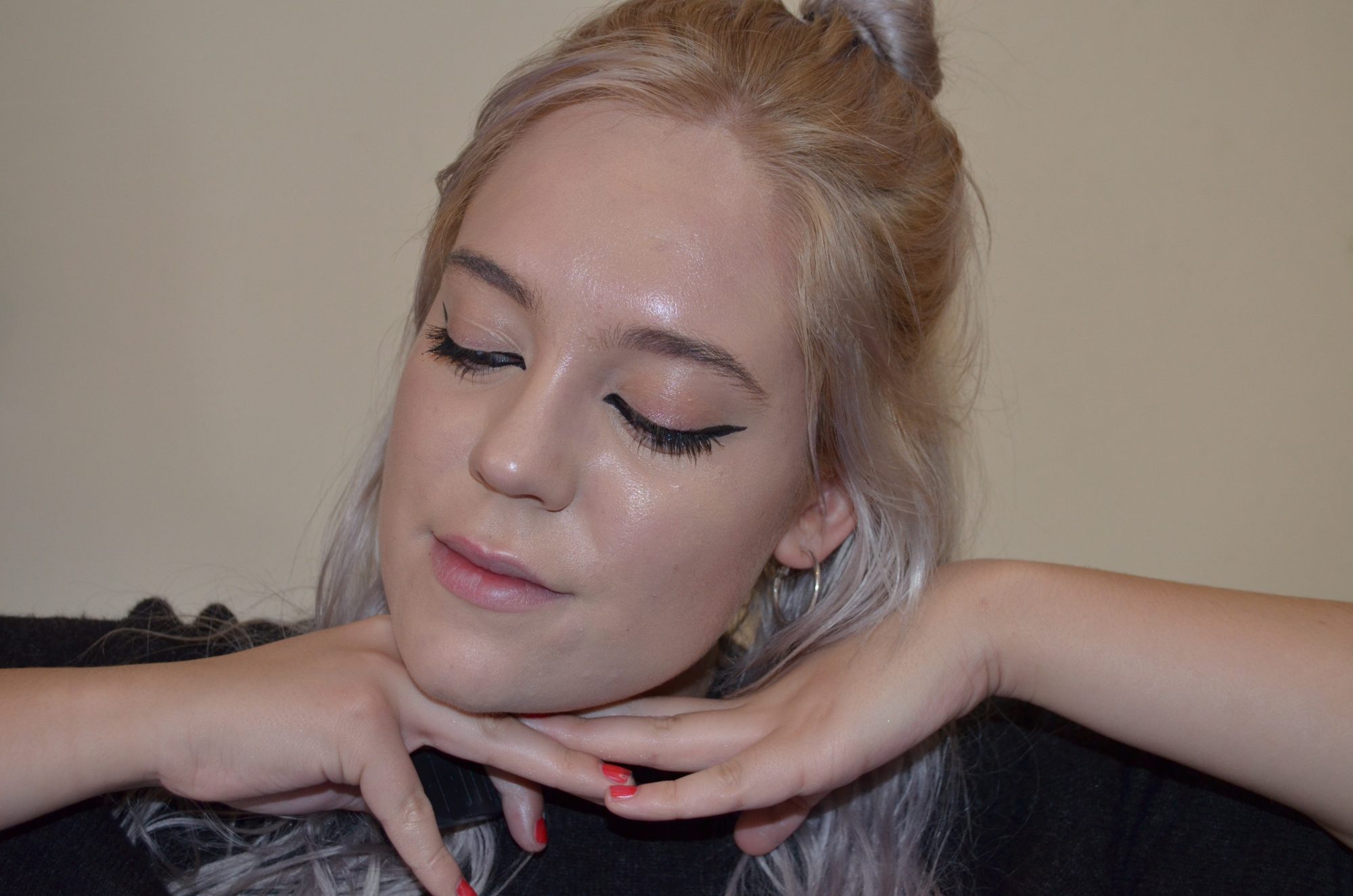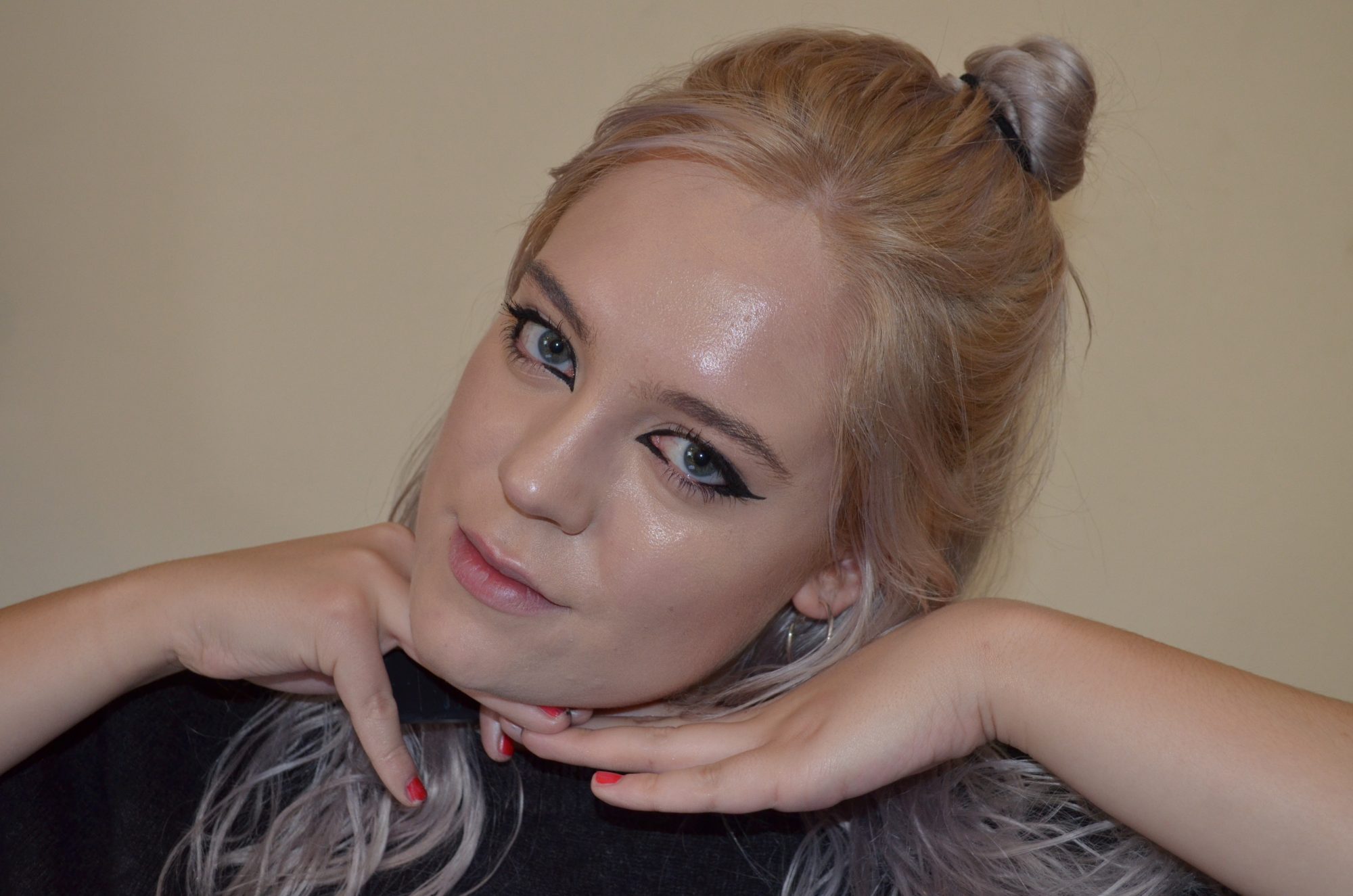 One you're happy with your eyeliner (and don't fret if this is slapdash, the look is supposed to be playful and fun), apply a light coat of mascara.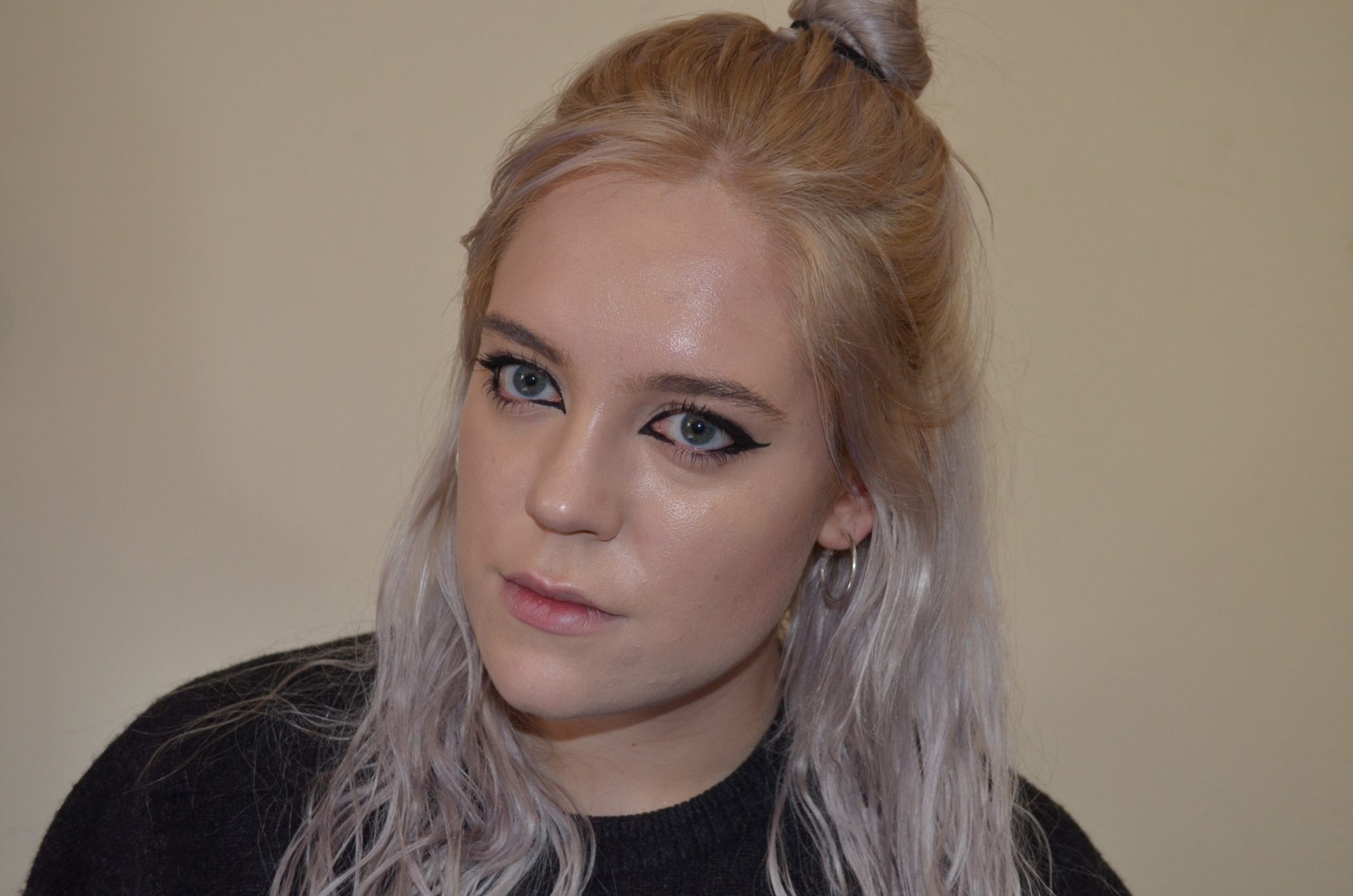 If you're #blessed with dark eyelashes naturally, you probably don't need to do this at all. I'm basically coloring them in to match the black liner.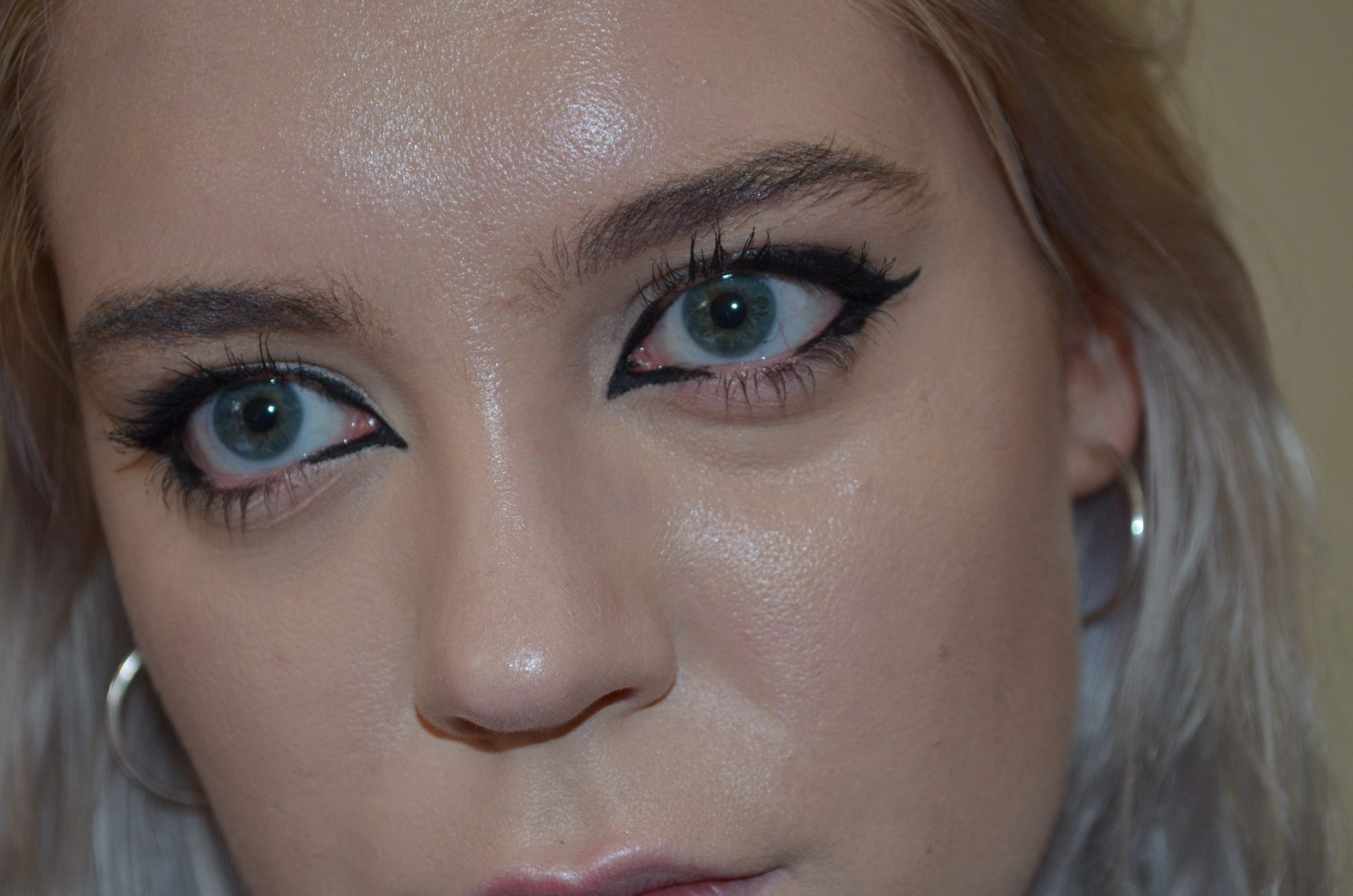 For lips, you're going to need lots of glitter.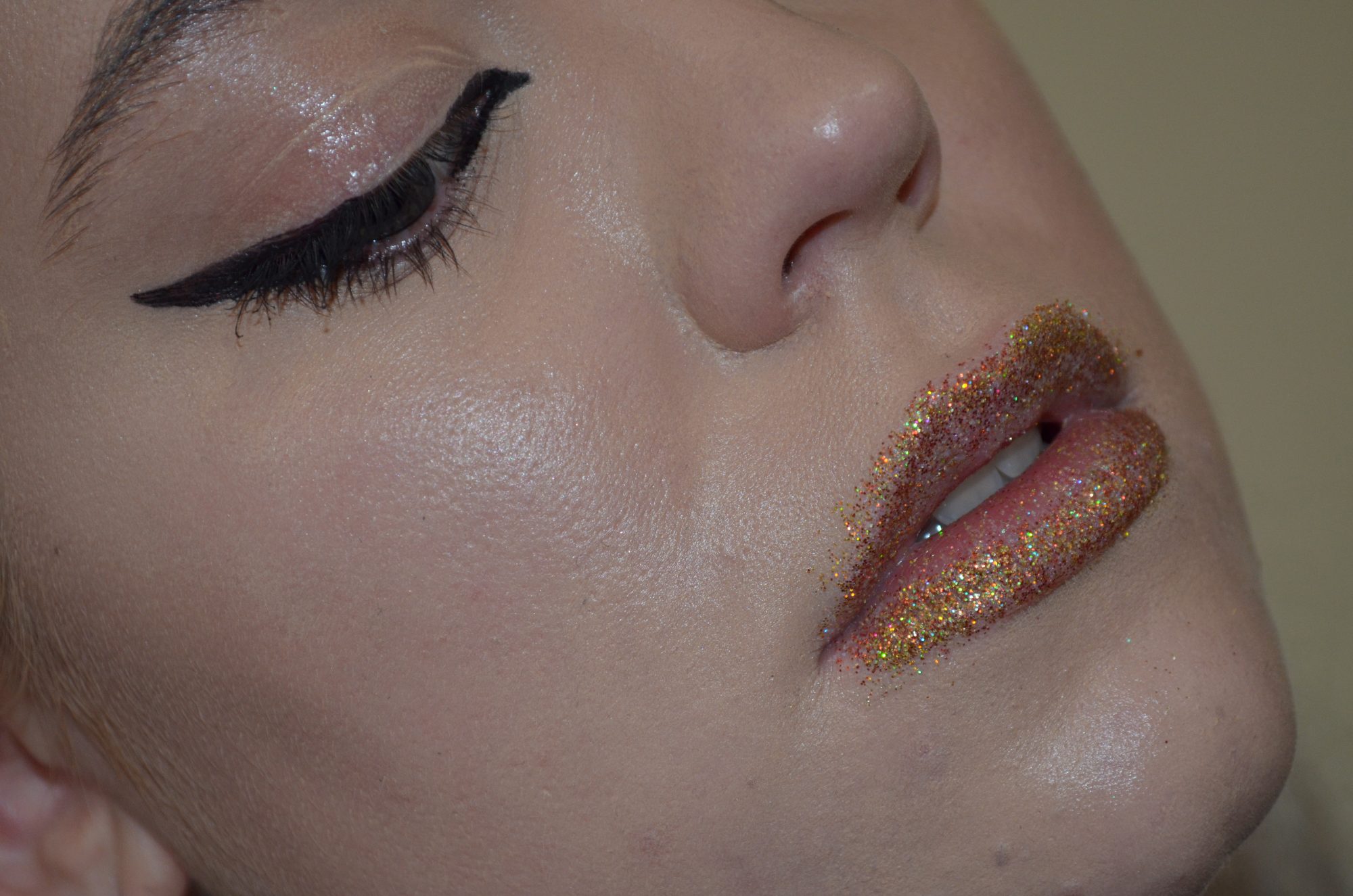 I used the Glitter Singles from Wet 'N' Wild in Bleached and Brass for my base sticky layer. If you want to make this look a bit more "everyday," then this would be a nice, subtle glitter effect. But I went the extra mile.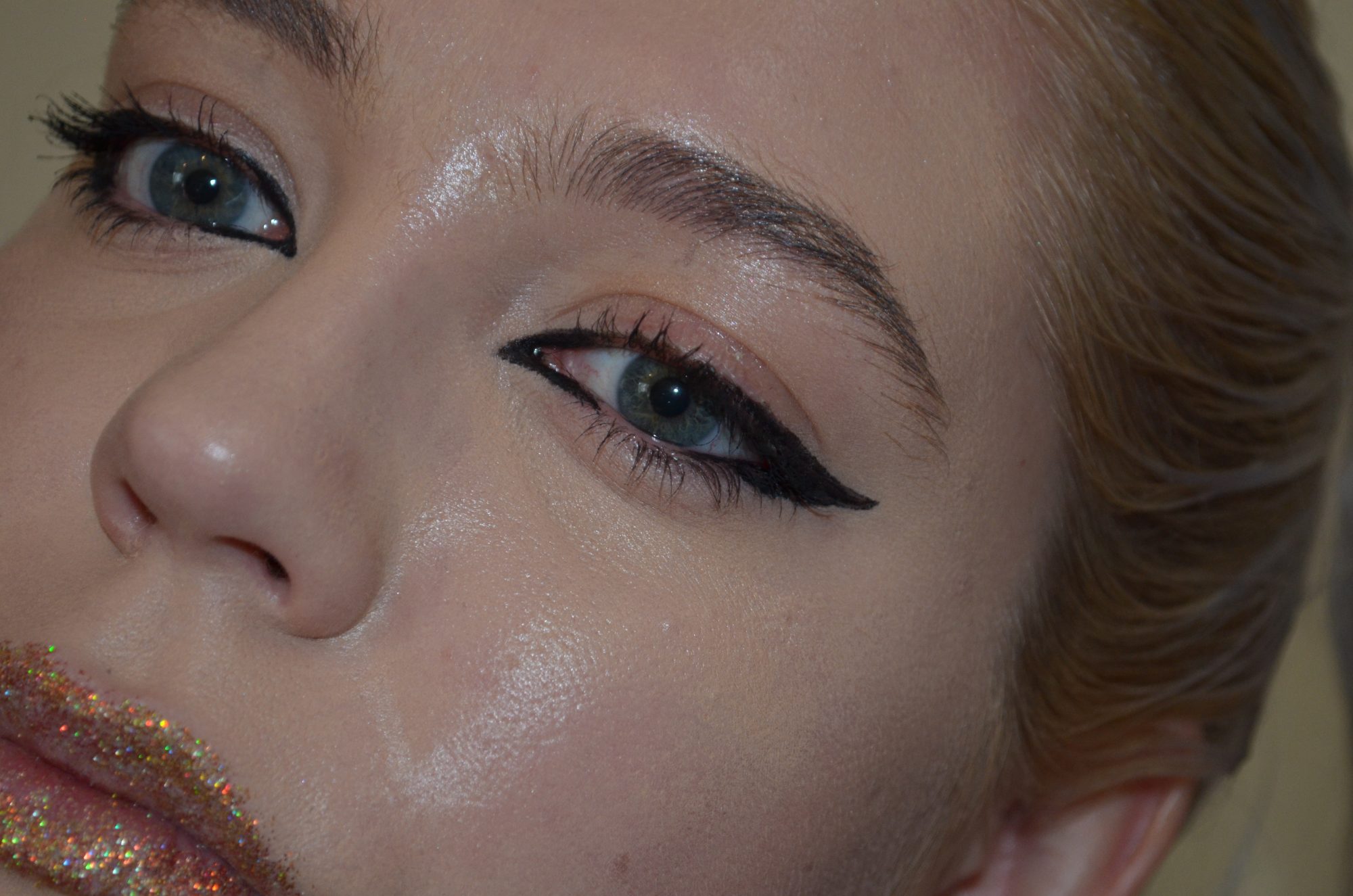 Over top and more towards the edges, I added some loose glitter I'd bought from eBay, in Copper, White and Holographic Gold. I'm not sure this is totally mouth safe, but Gigi basically has a bald glitter patch in the center of her mouth. I think keeping this part bare will keep the majority of glitter from going into your mouth, so it's probably your best bet.
I must say, having this loose glitter on my lips felt absolutely horrible, so good for photos but perhaps not doable for daily wear, unless you're a braver soul than I.
For hair, you want two high bunches at your crown, with a center parting.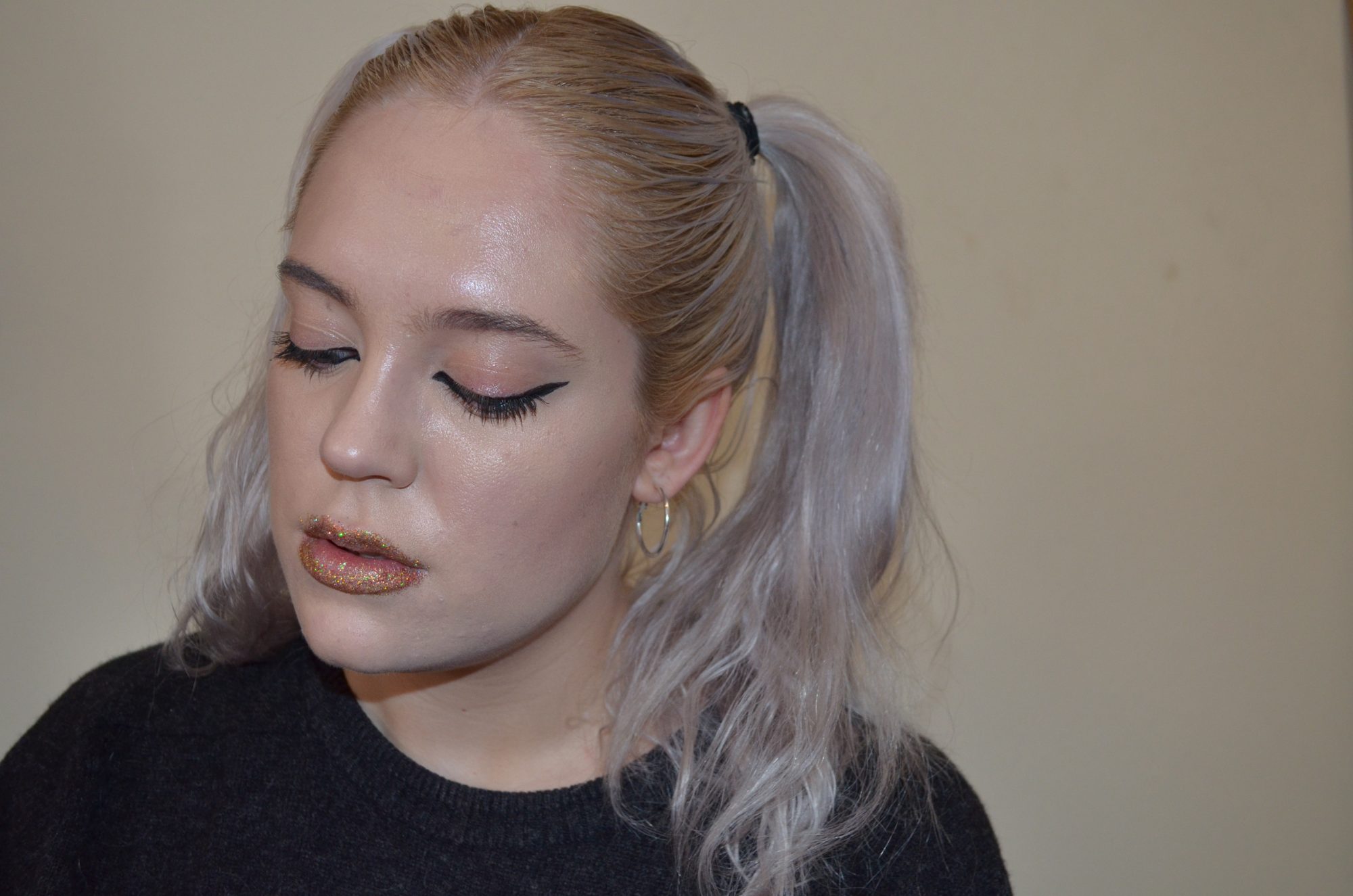 The top looks sleek, while the loose hair looks bouncy and soft. I put a small amount of cheap hair gel through my crown, brushed out the ends with a wiry brush to fluff them up a bit. To truly go for it, you'd need to add some plastic gems through the crown, but I didn't have anything to even approximate this look — colorful plastic buttons or some super '90s hair gems probably work.
Anyway, less is more, says the girl wearing full eyeliner, bunches and glittery lipstick!