WATCH: Gigi Hadid had to escort a catwalk crasher off the Chanel runway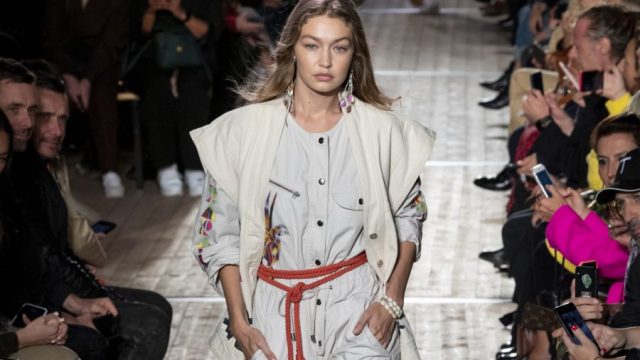 Welp, we certainly won't be messing with Gigi Hadid any time soon. While walking the Chanel Spring/Summer 2020 runway show at Paris Fashion Week earlier today, October 1st, Hadid was forced to take on the roll of security guard in lieu of model.  A tweed-clad spectator jumped onstage to join the show during the finale, and Hadid took matters into her own hands like a pro.
The model calmly directed the woman, who appeared to be attempting a full lap around the runway, offstage and down the set of stairs her fellow models were using to exit the catwalk. There, the crasher was reportedly chased off site by actual security guards, as WWD reports.
Spectators of the show, seated in Paris's Grand Palais, were able to catch the entire incident on camera. Although it's uncomfortable to watch, we can totally get behind the idea of "Super Hadid."
Perhaps she's the real-life, crime-stopping superhero we've been waiting for. false
Here you can get a better look at the crasher jumping onstage. We honestly have to give her credit for managing such a leap in a pencil skirt. false
The catwalk crasher was eventually identified as Marie Benoliel, better known to her followers as Marie S'Infiltre.
According to WWD, Benoliel is a comedian and YouTube personality with over 195,000 followers on Instagram. And she actually identified herself, commenting on a WWD Instagram post about the incident, "that's me," paired with a middle-finger emoji. false
Listen, crashing a fashion show isn't cool. We wish Hadid didn't have to morph from supermodel into superhero, but we're glad she was able to diffuse the situation like a boss. Note to self: Stay on Hadid's good side.