Gigi Hadid doesn't think she has a very good runway walk, and we couldn't agree less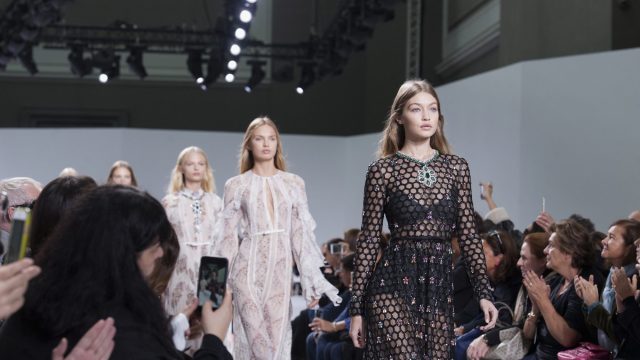 File this one under: even supermodels get the jitters. Gigi Hadid sat down with W magazinein a screen test interview with Lynn Hirschberg, discussing her first campaign, attending all four proms and how she gets self-conscious while walking the runway. "Obviously I'm not the best on the runway. Ok, everyone we did it. Gigi said it. I know it," Hadid laughed. Um, Gigi? We're sorry, but you're absolutely false.
In fact, check out Hadid's runway debut at the 2014 New York Fashion Week. She's doing a lot better than we ever could! Just saying!
https://www.youtube.com/watch?v=mU8mNqGrJB8?feature=oembed
Even so, Hadid is only human, and like most of us, she compares herself to other girls in her industry. "I never was taught how to walk on the runway. And maybe that's because it moved really quickly for me, that people just assumed that that was something I knew," Hadid explained.
Here's Hadid's full Hirschberg screen test. She seems like someone we would want to hang out with:
https://www.youtube.com/watch?v=XHZ-hYleWx4?feature=oembed
In her full W  magazine interview, Hadid credits her mom, Yolanda, for giving her the best advice when it comes to working. "When you start working, you better be the most hardworking, nicest person in the room because if you're not, then there's always going to be someone prettier, nicer, and more hardworking," Hadid says.
She adds, "It's always a first impression and I think that the thing I try and remember is that you have to give your energy for that time because it's the time that counts and that's how the person's going to remember you."
Her mother's advice rings true, and taking that into consideration, Hadid is making some great first impressions. Whether she thinks her runway walk is up to par or not, we know Gigi is giving it her all.