People are not thrilled with Gigi Hadid for carrying a puppy down the runway at Milan Fashion Week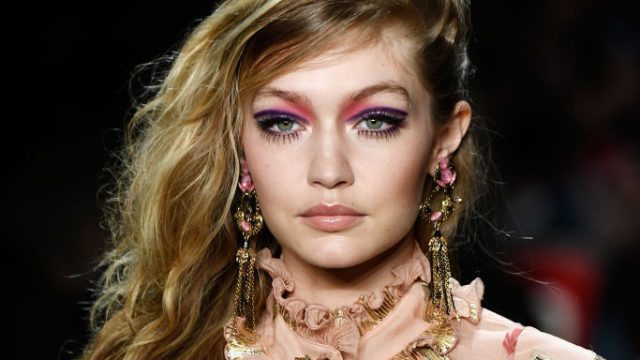 Usually, you'd be hard-pressed to find someone who didn't want to see a puppy at any given moment — but it's happening. Gigi Hadid carried a puppy on the runway at Milan Fashion Week, and some people were pissed. And after you find out the details, you might be, too.
As Teen Vogue pointed out, when Hadid walked in accessory designer Tod's show, she proudly carried a live French Bulldog by her side as she showed off a cozy brown coat and matching oversized bag. Hadid looked amazing and smiled the whole time, as most of us do when we're in the presence of a puppy. And speaking of the puppies? Well, they were ridiculously adorable. However, people are wondering if puppies being used as accessories crosses a line somewhere. This is especially the case since the designer does use real leather in his designs…which comes from other live animals.
To be totally fair, Hadid wasn't the only one carrying a puppy down the runway — it was part of the designer's vision for the show, and many of the other models hit the runway with puppies in tow. But right now, she's getting all the heat. Twitter is already ripping her for it.
false false
People are definitely making good points in these tweets, but Hadid was also just doing her job. She was working for the designer by walking in the show and followed directions by carrying the dog. There's no evidence that these dogs were harmed or mistreated — although, in the middle of a fashion show surrounded by people and bright lights, there was definitely the possibility for chaos.
In the end, everyone made it out unscathed, and these puppies got a few extra cuddles that day.
Judging by this backlash, it'd be surprising if puppies ever make an appearance at fashion week again. Kind of a bummer, but maybe it's what's best for them. Anyone else suddenly dying to go out and get a good boy of their own?