Vogue Italia officially apologized for the controversial Gigi Hadid cover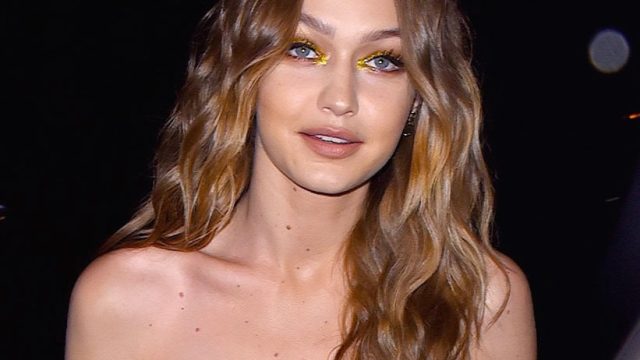 Why is it that magazines would rather darken a model's skin (with makeup or digitally) than just, I don't know, hire a Black model? Blackface is a racist, cancel-worthy approach and it's appalling that outlets still attempt it.
On May 2nd, model Gigi Hadid shared her Vogue Italia cover on Instagram. It features her wearing a glitzy Alice in Wonderland jumpsuit while posed in the lap of fellow model Justin Martin. Though she was "excited, honored, and grateful" for the opportunity, Hadid, the photographer, and the publication were dragged for filth for this cover. Why? Because Gigi's skin appears to have been darkened for the purpose of the shoot. After receiving an onslaught of valid questions and hate from her followers, Hadid decided to delete the post. But that doesn't mean the offensive image is erased from our memory.
To make matters worse, this isn't the first time Gigi Hadid and Vogue Italia have been called out for cultural insensitivity.
Twitter user @blancapadillla mentioned the similarity between this 2018 shoot and a 2015 cover shoot and spread that featured Hadid in a variety of afros. Gigi didn't comment on the situation then, ostensibly because she was busy focusing on her Victoria's Secret Fashion Show debut. false
Writer Claire Woods also pointed out the fact that the photographer, Steven Klein, shot Laura Stone in blackface for Vogue France in 2009. Klein has clearly learned little-to-nothing about racist depictions in the past decade. false
We've given a brief history of blackface before and have talked about how it is a permanently inappropriate act. It has been used to demean Black facial features and body types for what seems like an eternity (considering that it still happens today).
To have access to the backstory of blackface — which has brought insurmountable anguish to the Black community — and still choose to ignore the cries of Black people for nothing more than magazine sales is shameful.
Gigi Hadid released a statement about the situation via her Instagram Story on Thursday, May 3rd.
In the post, Gigi reveals the lack of control she had over the artistic direction and apologized. She concluded by speaking on the very real lack of representation in the fashion industry. Now I'm curious if Vogue Italia or Steven Klein will share their thoughts on the situation.
And on May 4th, Vogue Italia issued a formal apology for the editorial decision, stating that the photographer's "vision was to create a beachwear-themed story with a stylized bronzing effect," adding that "we understand that the result has caused some debate with our readers, and we sincerely apologize if we have caused any offense."
While we're giving Gigi props for, at very least, speaking up about what happened in light of the pain and anger this may have caused her fans and the Black community, we have to admit that Vogue's apology leaves much to be desired. They didn't even directly address the Black community, nor did they delve into why so many people took offense
Let's hope that this incident serves as a teachable moment for everyone involved.