Gigi Hadid apologized to her Chinese fans for an important reason, but many believe more action is needed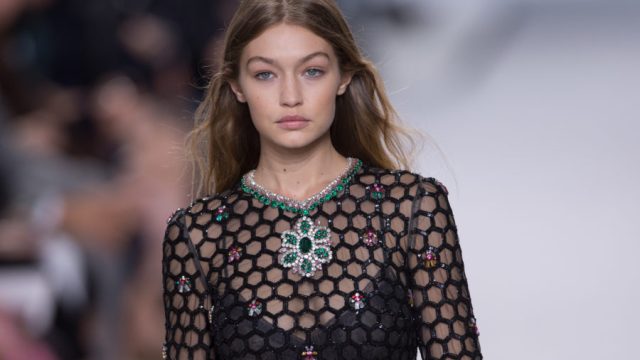 After offending many of her Asian followers earlier this year, supermodel Gigi Hadid reportedly apologized to fans, and here's what we know.
Back in February, Gigi's sister Bella posted a video to her Instagram Story in which Gigi mimicked the facial expression on a Buddha-shaped cookie. Many perceived the gesture as racially insensitive — if not outright offensive — to Asian people, and the model came under fire for making the ignorant gesture. The video resurfaced again in August after Gigi announced she'd walk in the 2017 Victoria's Secret Fashion Show, which will take place in Shanghai in November.
Some fans felt Gigi shouldn't be returning to China in the wake of the offensive video — at least not before she issued a formal apology. However, the model recently did apologize to fans, releasing a statement on the Chinese social media site Weibo.
Gigi wrote, "It hurts me to hurt anyone, and I want you to know it was never my intent to hurt anyone through my actions and I sincerely apologize. [...] I have learned to be very careful of how my actions can come off or be portrayed, and I'm hopeful you'll accept my apology. [...] I do not condone hurtful behavior and want people and fans of all backgrounds to know they are welcomed, loved, and respected around me and by me.
However, fans were quick to point out that while Gigi apologized, she did so very quietly, and neglected to share the apology on any of her social media accounts (aka where it would realistically be seen by fans outside of China). false
While we're glad Gigi apologized and addressed the issue head-on, we completely understand why many are still upset that she used a relatively narrow platform to issue the apology. Gigi has 35.6 million Instagram followers and 6.2 million Twitter followers and definitely could have reached a broader range of people had she used either or both. In doing so, she would have genuinely helped to create a dialogue on this issue (as well as perhaps used it as a teachable moment for so many of her fans).
Here's hoping that Gigi has sincerely learned why her actions were offensive, and maybe she'll work toward sharing these lessons with a broader range of followers in the future.