Gigi Hadid wore $30 pants at Paris Fashion Week, and here's where you can get them
There's no denying that the Hadids have great style. But oftentimes, as much as we'd like to imitate their ensembles, the designer duds they wear are far too expensive for the average person. Now, however, Gigi Hadid was spotted wearing $30 pants while out in Paris during fashion week — and you can get them from H&M. Yes, the same H&M where you just impulse-bought new fall socks!
This realization that we, too, could dress like a Hadid (without breaking the bank) was enough to make our whole weekend. Turns out, this pair worn by the model is still available at H&M in several sizes. To get a pair identical to Hadid's, select "gray/houndstooth" — and consider yourself as high-fashion as they come.
To style her cropped stovepipe pants, Hadid kept her ensemble pretty monochromatic in an all-gray look. With her trousers, the model selected a slouchy gray hoodie, black sunglasses, and black studded slides, and kept her hair fairly natural with long beachy waves.
This isn't the first time Hadid has turned heads because of her pants. Earlier this month, the starlet wore denim that read "Zayn" on the back pocket, clearly a callout to her musician boyfriend. And so, while we aren't surprised at having major style envy after seeing the star's latest look, we weren't expecting her to be spotted wearing such an accessible fashion find. And considering these plaid pants are still available for purchase, we're considering this a gift from the fashion gods.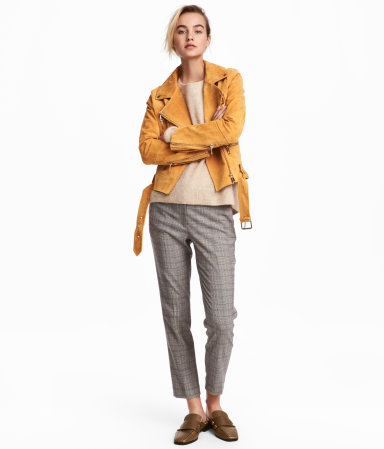 Shop these pants here.
Hadid may have spent the past month surrounded by high-fashion designs at various fashion weeks around the world, but clearly she's not above a good ol' bargain from the Swedish retailer. Even though these pants cost just $30, they look high-fashion, and the plaid pattern means they are perfectly on trend for fall.