25 gifts to get for the kid in your life, from newborn to college-bound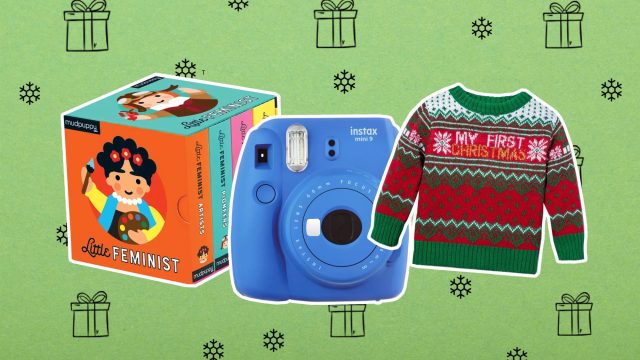 It's that time again: Time to do your holiday shopping. From nieces and nephews to the little ones you babysit to your own children, chances are you have at least one kid on your this year. Kids are hands-down the most fun people to shop for, but they can also be the most difficult if you aren't already submerged in the kid world. What's an age-appropriate gift for a toddler? Do preschoolers like science and engineering? And what, pray tell, do teenagers like these days? If you're feeling a little lost about what to buy, don't worry. These gifts for kids are sure to be a hit.
We came up with fun and creative gifts for kids of all ages: newborns and infants, toddlers, preschoolers, elementary-aged kids, and even teenagers. Because, in case you don't know, there's a big difference between what a 2-year-old plays with and what a 4-year-old plays with. Honestly, we wish these gifts had been around when we were kids, because they're that fun. The best part is these gifts for kids will make parents happy, too. Trust us: You're going to get an adorable handwritten thank-you note for these.
Gifts for newborns and infants
Make their first holiday season extra special.
1. A set of books about feminists
It's never too early to learn about feminist artists, pioneers, leaders, and activists.
So soft, so cute, and so cozy.
These will help parents get the perfect shots for the 'gram now and in years to come. The rectangle says "Weeks," "Months," "Years," and "Grade."
It's an activity book and a playhouse in one.
5. A "My First Christmas" ugly sweater
They only get one first Christmas. Make it count with an ugly Christmas sweater.
Gifts for toddlers
Kids aged 1-3 years are growing and learning so much, and these gifts foster that. (Plus, they're just plain fun.)
We wish this came in adult sizes, too.
7. A set of crayons that work in—and on —the bathtub
No more bath-time tears here.
He's back! And this time, you won't have to fuss with pesky cassette tapes.
9. A set of wooden musical instruments
Kids love musical toys. (Sorry about your ears.)
10. A plate that makes eating vegetables fun
Sometimes, it's okay to play with your food.
Gifts for preschoolers
Not to play favorites, but kids ages 4-6 years old are SO fun to shop for.
11. A pair of dinosaur claw slippers
Raaawwrrr!
Unicorns aren't for everyone, so there are bunny, puppy, fox, and dinosaur robot kits, too.
What an adorable way to teach kids to save money.
14. A coding set
This activity set makes learning the basics of coding fun.
15. A wooden camera
It's the perfect gift for the budding artist on your list.
Gifts for elementary-aged kids
We wish these gifts had been around when we were kids.
It makes tassels, too.
17. A build-your-own video game platform
Kids can build a game on the board, then actually play it in the free app.
She even comes with a golden Lasso of Truth.
19. A Disney-themed board game
It's fun for the whole family.
For the budding beauty guru.
Gifts for teenagers
It's not easy to impress a teen, but these gifts will hopefully do the trick.
21. An assortment of cute cord protectors
Thanks to these little critters, frayed phone cords are a thing of the past.
It'll be an instant hit.
Not only can they make it say whatever they want, but it also changes colors.
Everyone needs a break from social media sometimes.
25. A clip-on selfie ring light
Everyone knows the key to the perfect selfie is the right lighting.