16 page-turning gifts for the book lover on your list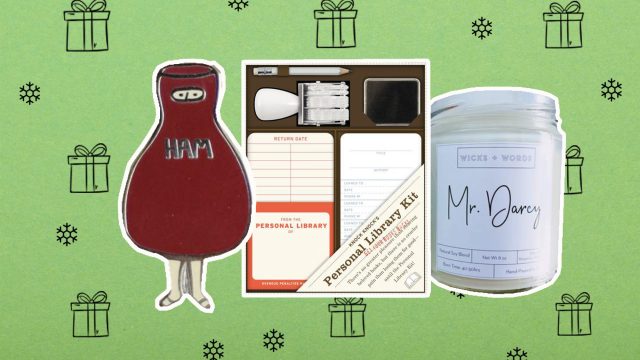 Ready or not, the holiday season is coming, and it's time to start thinking about gifting. Problem is, some people are notoriously difficult to shop for. What should you buy your mother-in-law? Why are dads so difficult to get gifts for? But thankfully, some members of your crew are a breeze to please. The best place to start is with buying gifts for book lovers, because they're often the easiest people to cross off your giving list.
Book lovers will appreciate anything that relates to reading or the act of reading, aka getting super duper cozy. And not only are they easy to shop for, but they're also fun to shop for. (Then again, we might be biased because we're book people, too.) Of course, the best gifts are ones that come from the heart. It's not about how much you spend, but the thought you put into it. You don't need to break the bank to gift someone a token of your appreciation for them. That's why everything on this list of gifts for book lovers is under $50, and most items are under $20.
As you make your holiday lists and check them twice, chances are you'll need a present for a bookworm or two. Check out these gifts for book lovers that are sure to be a hit. If you do some shopping for yourself along the way, we won't tell.
1A pair of cozy socks for reading marathons
They'll slip on these retro gym socks and hit the books.
2A set of postcards featuring classic book covers
From F. Scott Fitzgerald to Virginia Woolf, these are perfect for correspondence or decoration. There are 100 of them, so if you're lucky, maybe you'll get a thank-you postcard.
3A tin of tea inspired by the Bard
In addition to Matcha Do About Nothing, there are also flavors like Pride and Peppermint, Don QuixoTea, and War and Peach. They're pun-tastically delicious.
4A tote featuring the classic characters of their childhood
Nostalgia never goes out of style. We spy the Poky Little Puppy and Scuffy the Tugboat. Bonus: Purchasing this tote helps fund literacy programs for communities in need, which is a gift in itself.
5A notepad that looks like a library card
So much more on-brand than a Post-It.
6A subscription that delivers the best new books to their door
What are the greatest gifts for book lovers? More books, of course. With a Book of the Month subscription, they can pick a brand new book (from a selection of five titles) and have it delivered to their door every month. Sign them up for three months for $44.99, six months for $79.99, and 12 months for $149.99.
7A cute bookmark that doubles as a compliment
2-D bookmarks are so 2017.
8An easy way to read in the tub
There's a candleholder, a wine glass holder, and a book holder—aka the bibliophile's trifecta.
9An enamel pin that pays homage to a classic female protagonist
Scout is wearing her Mary Janes and everything.
10A hat that makes their love of books known to all
Even if they've never been to Books Are Magic, a charming bookstore in Brooklyn, the sentiment still makes sense. Because books are magic.
11A set of redesigned classics
Coralie Bickford-Smith has designed over 40 hardcovers for Penguin Classics, and she just added five more to her list: Crime and Punishment, The Ring of Nivelung, Don Quixote, The Mayor of Casterbridge, and The Adventure of Sherlock Holmes. These delicate designs are perfect for any collector, or a book lover who wants to add a little beauty to their shelves. See them all here.
12A candle that smells like their favorite book boyfriend
Mr. Darcy has notes of amber, wood, and bergamot. Would you expect anything less romantic?
13An old-fashioned way to share books—and make sure they get returned
Most bibliophiles don't mind loaning out books, but they fear never getting them back. That will change once you gift them their own personal library kit.
14A card game based on the profanity of William Shakespeare
It's like Cards Against Humanity, but even more scandalous—and hilarious. "Cupid's butt-shaft" and "a German from the waist downward" are your new favorite trump cards.
15A book about loving books
Like we said, perhaps the greatest gifts for book lovers are more books. And every bibliophile needs the beautifully illustrated Bibliophile by Jane Mount on their shelf.
16A feminist book subscription box for the next generation
Kids can never have enough books—especially when they center around diversity and gender equality. The book-loving moms in your life will jump for joy if you gift them a subscription to Little Feminist, a feminist book subscription box for girls and boys. Every book features strong female characters and/or people of color, and every box comes with activities and family discussion questions. Choose from newborn+toddler, 3-7-year-olds, or 7-9-year-olds.