Some genius bard has translated all of "Ghostbusters" into a Shakespearean play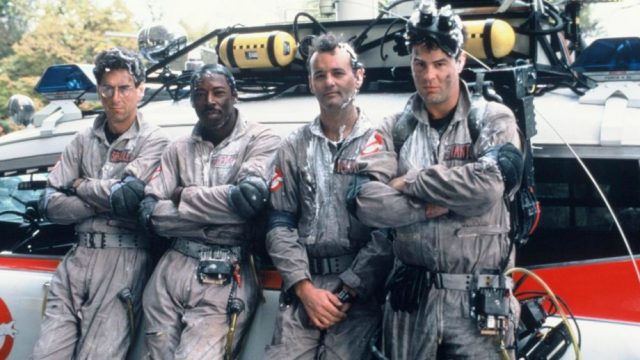 The original 1984 Ghostbusters film is an absolute gem. Some would go as far as calling Dan Aykroyd and Harold Ramis' script brilliant. But is it possible that someone has found way to make it even more brilliant? Author Jordan Monsell has turned the Ghostbusters script into a work of Shakespearean proportions. That's to say he translated the entire thing into iambic pentameter and period prose!
His recently released book, Ministers of Grace: The Unauthorized Shakespearean Parody of Ghostbusters, fuses the amazingness of Ghostbusters' structure, plot and characterization with William Shakespeare. The result is something outta this world!
You absolutely must read it for yourself.
Here's a little taste from the book. Remember when the gang goes on their first call?
This is it:
INNKEEPER I humbly thank thee gentles for thy speed. Our guests grow anxious by the hour and start To question me for reasons have I none. RAY Hath it appeared ere now? INNKEEPER The eldest servants know of higher floor The strange impatience, I do mean to say Though stirred it not these past five moons till late. And ne're did carry on as violently. EGON Did'st thou make report to any soul? INNKEEPER Nay! Good heavens! We do not speak of it. I wish it were removed before the dawn. RAY Verily. Now peace good sir. Custom hath made it in we a property of easiness. Exit INNKEEPER MAN AT STAIRS What be you, a Muscovite? PETER Nay, we be extirpators. A rat a man did see on floors above and called upon us. MAN An unholy size this rat must be. PETER 'Twould take this from this, sirrah. RAY Wilt thou follow? MAN I'd rather keep my head to chew and swallow. RAY It hath occurred to me of late that a successful trial of our weapons have we not. EGON I do accuse myself. PETER As do I. RAY The fault, dear Egon, is not in our stars but in ourselves, that we are underlings. PETER Wherefore be troubled? For upon our backs have we unlicensed boxes of rough magic. RAY Agreed. Are we content? EGON charges RAY's pack, then backs away.
According to Nerdist, Dan Aykroyd has unofficially approved the parody and even provided a quote for the book.  He used such words as "genuine," "scholarly," and "hilarious" to describe this creative translation. And we completely agree.
Just when you thought they couldn't improve a classic, someone goes and brains it up!