Yup, there are "Ghostbusters" hamburgers in Japan now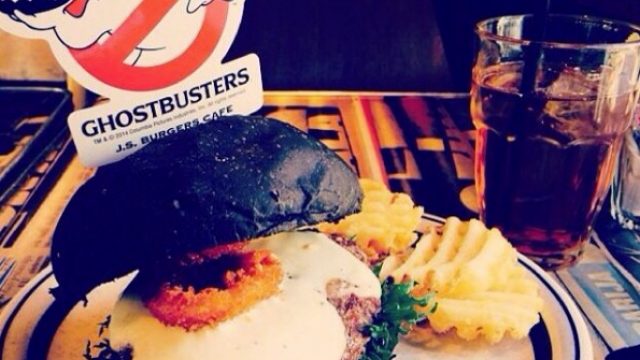 Japan is the place where intriguing foods are made. Just last week, we discovered that coffee jelly will be a thing you can order in Japanese Starbucks locations this summer. Japan is also the place where the Giga Big Mac exists. So it should come as no surprise that the country's quirky culinary offerings now include Ghostbusters hamburgers.
According to Kotaku, diners will be able to get Ghostbusters-themed foods at J.S. Burgers Café locations in Japan this summer, including the understandably intimidating G.B. Burger. This burger's patties are slathered in a tapenade of black olive and anchovy paste with capers and olive oil. It's topped with onion rings, cream, and "bloody hot ketchup" in three levels of spice. This burger looks positively supernatural, not least because it's sandwiched in between to buns blackened by squid ink. The G.B Burger costs 1,580 yen or about $15.45.
J.S. Burgers Café is also offering a dessert burger on its Ghostbusters menu aptly named the Marshmallow Mad Burger. This confection costs 1,280 yen or approximately $12.52 and consists of marshmallow, yogurt ice cream, and cookie nestled in between fluffy white buns. The whole thing is topped with a "bloody berry" sauce.
There also appears to be some pretty great merchandise celebrating the Ghostbusters-J.S. Burger Café union available, including the a t-shirt featuring the classic Ghostbusters logo — only the ghost is holding up a plate with a burger on it. Other items include another shirt design, shot glasses, and pins.
The limited edition Ghostbusters menu became available July 1st and will be around until September 30th. If you're currently in Japan or have plans to visit this summer, it might be wise to add J.S. Burger Café to your itinerary and get a taste of these ghostly delights — before they're gone for good.