How Getting Tattoos Helped Me Heal After Trauma
Each of my five tattoos has its own deeply personal — and empowering — meaning.
I never thought I'd get a tattoo. I loved the way they looked on others, but I couldn't imagine permanently putting something on my body. I had a few fleeting ideas for designs over the years, but always quickly dismissed them. I couldn't even figure out a consistent clothing style that fit my personality — how could I commit to lifelong ink? What if I got a tattoo, then changed my mind and ended up hating it? Would it look ridiculous as I got older? 
There were plenty of reasons why I shouldn't get a tattoo. But now, I have five of them.
Turns out, experiencing trauma and the subsequent feelings of having no control over what happens to your own body can be a strong catalyst for getting tattoos. A 2018 study published in Deviant Behavior found that many sexual assault survivors seek out tattoos as a "non-traditional form of healing." The researchers found that "survivors sought out tattoos as a means of regaining control of their bodies and their environment."
Although tattoos aren't a replacement for trauma therapy, I'm a strong believer that there are many ways to heal — some less "traditional" than others, but no less impactful.
For me, each of my five tattoos has its own deeply personal — and empowering — meaning, and they all serve as permanent reminders that I am strong, free, and can fight my way through every rough patch.
Here's the story of each one.
I was first diagnosed with complex post-traumatic stress disorder (C-PTSD) in middle school due to a fractured relationship with my father. I spent years vacillating between "doing OK" and experiencing flashbacks so severe and frequent that I was incorrectly diagnosed with ADHD.
By my mid-20s, I was just beginning to mend fences with my father when I was sexually assaulted. I had just moved to a new city where I didn't know anyone. My "fresh start" and "clean slate" slipped away before I could even have them, and another trauma was added to my medical chart. I stared at it helplessly, wondering if I had some sort of target on my back that made me an easy victim. 
RELATED: A Study Has Revealed Why Most Sexual Assault Victims Don't "Fight Back"
"What am I supposed to do? Never leave my apartment again?" I asked my best friend. It wasn't a rhetorical question— I had moved into a building with so many security measures in place that my movers joked it was "like a fortress." I laughed along and didn't mention that's exactly why I chose it. 
By that point, I'd been throwing around the idea of getting a small tattoo on my wrist for about a year. As a lifelong bookworm, I kept coming back to part of a passage from one of my favorite books, Voyage of the Dawn Treader.
I had read the Chronicles of Narnia series with my godmother as a child. A human rights lawyer who fights for victims of sexual and domestic violence, she frequently texted me the simple but powerful reminder, "Courage, dear heart."
On a Saturday afternoon two months after my assault, I impulsively called the tattoo parlor in my neighborhood and asked if they could squeeze me in that day. I wanted to take the leap before I inevitably changed my mind.
I thought it would be my only ink, but I hadn't anticipated how empowering the process would be. I sat with the tattoo artist for almost an hour working on the exact font, size, and placement.
The choice to permanently put something on my body was mine and mine alone, and I had complete control over every aspect. As someone who is generally terrified of needles, I had anticipated pain, but it was just a few minutes of mild discomfort. As I walked home, I couldn't stop smiling and counting down the hours until I could take off the bandage to show off my new ink — and, more importantly, be able to look at it whenever I wanted. After all, I got the tattoo for myself.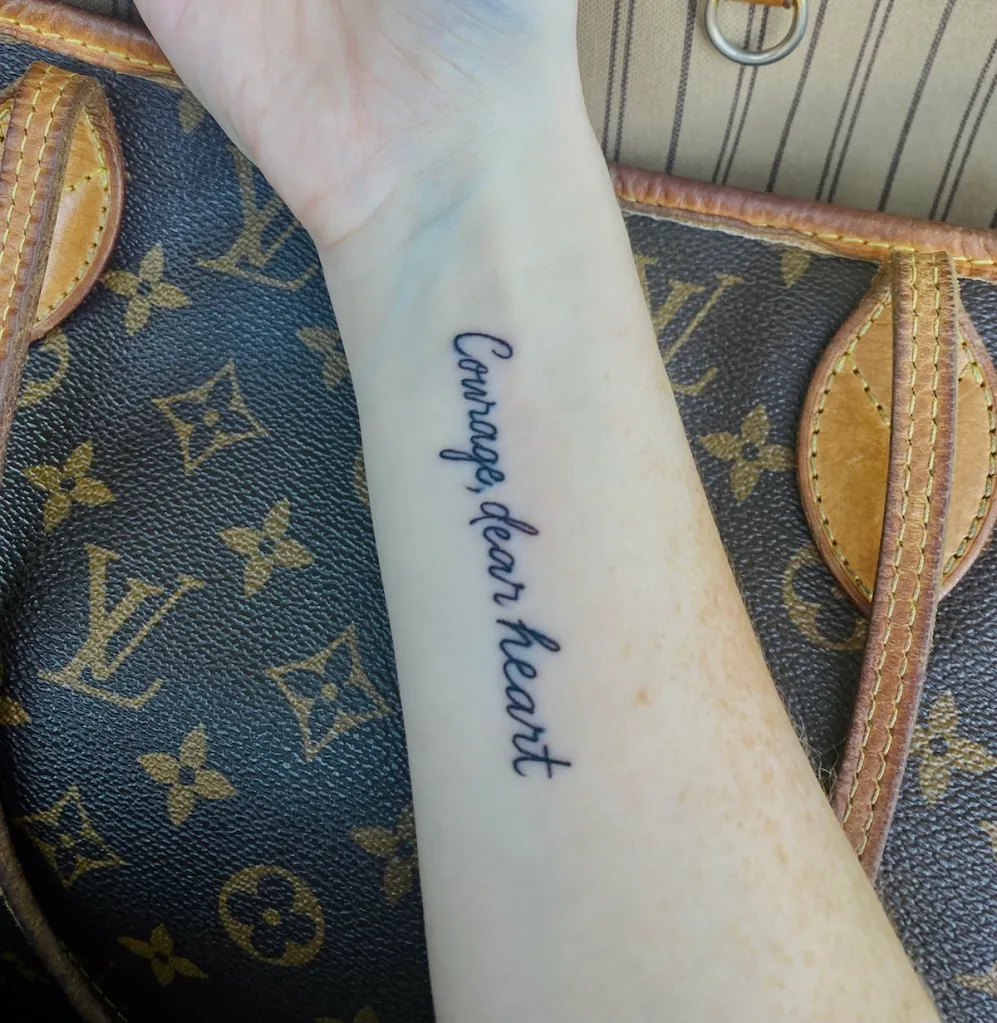 Every time I glanced down at my wrist, I was reminded of three things: my godmother's meaningful message to me, how lucky I was to have her as part of my support system, and my decision to place the quote on my body.
Four months after my assault, I watched in horror as the electoral map showed Donald Trump had racked up enough votes to become president — never mind the 26 sexual misconduct allegations against him, which dated back to the 1970s and included the now-infamous Access Hollywood tape in which he laughed and bragged about his ability to get away with it. "When you're a star, they let you do it. You can do anything," Trump stated on the tape, among other graphic comments. 
I vented to anyone who would listen that this is what happens when people don't take sexual assault seriously. My intense emotional reaction was undoubtedly compounded by the trauma of the recent assault; I still hadn't begun to process what had happened or even try to find a new therapist.
When Hillary Clinton gave her concession speech, she concluded on a hopeful note: "Scripture tells us, 'Let us not grow weary in doing good, for in due season, we shall reap if we do not lose heart.' So my friends, let us have faith in each other, let us not grow weary, let us not lose heart, for there are more seasons to come. And there is more work to do."
In particular, "there are more seasons to come" struck a chord. Although Clinton was referencing the political climate, the quote also held another meaning for me: in my personal life, there were indeed more seasons to come. I could either remain locked in my apartment, fearful of the outside world and angry about my trauma, or I could seek the painful but necessary treatment that would equip me with the tools to make my future seasons more positive.
A month later, I returned to the same tattoo parlor and got new ink, this time on my ribcage: "There are more seasons to come."
The second time around, I wasn't nervous about the pain or the permanence so I didn't need to make any last minute calls before I got cold feet. But I left with a similar feeling as my first — empowered and happy to have an important and timeless message on my body.
For the next few years, I didn't get any more tattoos and I didn't plan to. But during a visit home in 2021, my dad and I re-watched Paper Moon for the first time in years. The comedy-drama about an unconventional father-daughter relationship had been "our" movie since I was a little girl, but I picked up on the depth as an adult in a way I hadn't before. As a tribute to my relationship with my father and all the work we'd done to get to a beautiful place, I got another small tattoo: a crescent moon and stars.
After getting matching tree tattoos with a friend, I got my final ink last year. A nod to my Portuguese heritage and two qualities I strive to embody each day, it was my biggest and most complicated tattoo yet.
My tattoo artist and I spent nearly two hours perfecting the design: a heart shape with the words "liberdade" (freedom) and "coragem" (courage) as the framework. When he told me it would take about two hours to complete, I was nervous for the first time since my first tattoo — all my others had only taken five to ten minutes and I'd grown to feel comfortable and familiar with the process.
My Portuguese tattoo definitely hurt in a way the others hadn't, but it was more than worth it. I loved the combination of a beautiful, artistic design and powerful words.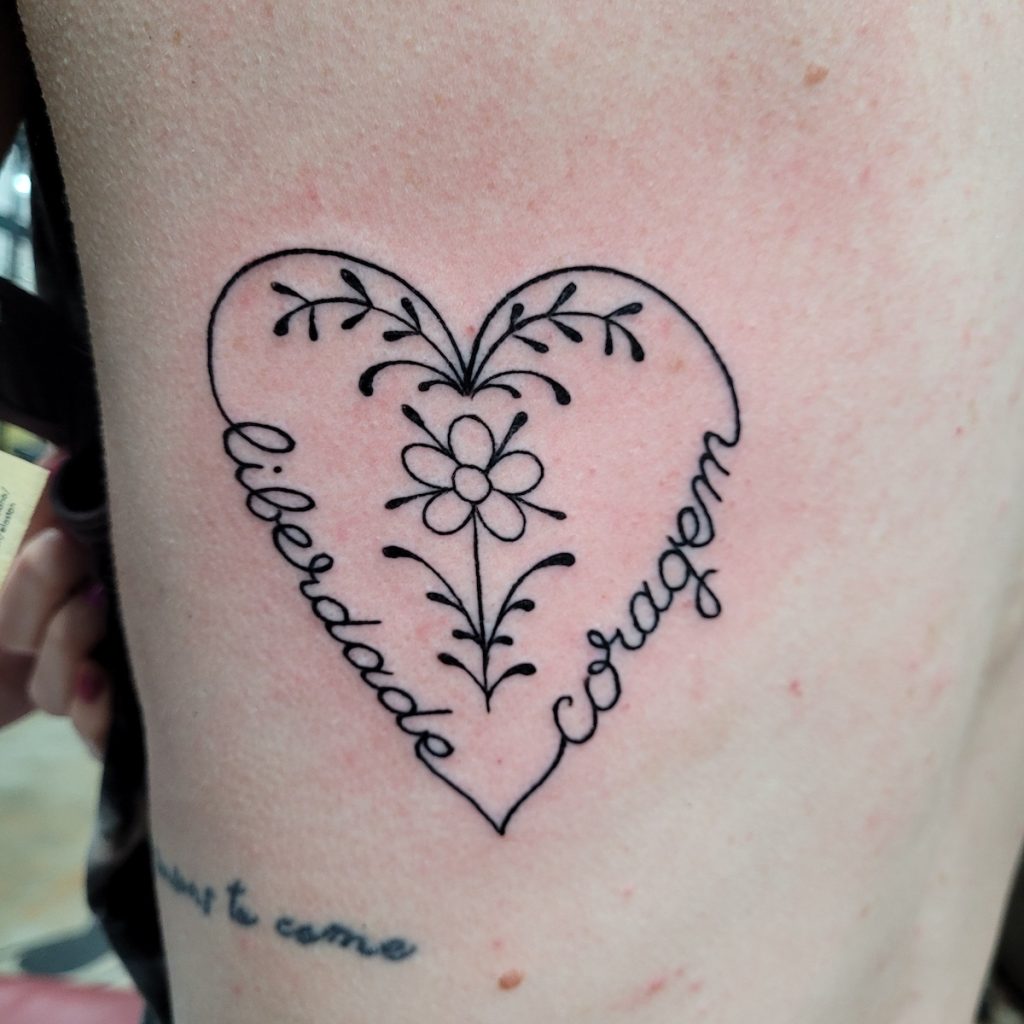 Every single day, my tattoos remind me that I'm strong and capable. They remind me of the progress I've made since the day I walked into the tattoo parlor six years ago. Right now I don't have any immediate plans to get more ink, but I definitely haven't ruled out the possibility. I still have years of life and new experiences — both positive and negative — ahead of me. If any of those experiences inspires a meaningful tattoo, I'll certainly be booking an appointment.
Along with therapy and support groups, I credit tattoos with helping me regain my confidence, strength, and courage.
If you or someone you know has been sexually assaulted, help is available. RAINN's National Sexual Assault Hotline is here for survivors 24/7 with free, anonymous help. 800.656.HOPE (4673) and .
Caitlin Flynn is an award-winning writer and reporter who experienced early age corporate burnout in 2015 and traded New York City for the misty air and superior coffee of Seattle.
Read more