Get ready to conceal, contour and highlight with Sigma Beauty's new makeup sponge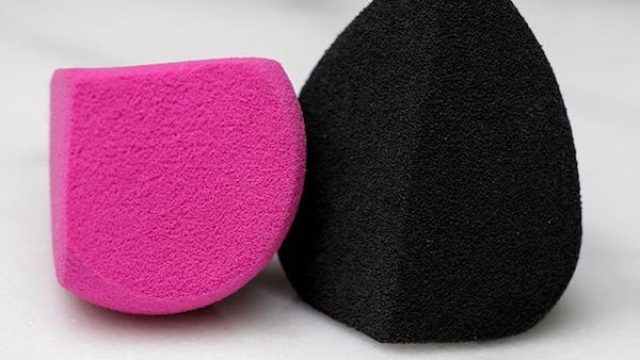 In some remote region of the world, there lies a Sigma Beauty lab where the most innovative beauty tools come to life. How else do you explain their spa glove (the heavenly product that cleans any makeup brush, no matter how dirty), the Sigma Spa Express Mat, and their epic Dry'n Shape Tower? There's GOT to be a secret lab where these makeup geniuses come up with the beauty tools of our dreams. That's why we're over the moon with their new product that every makeup lover will NEED. Sigma Beauty's latest invention is a godsend for anyone who toggles between a makeup sponge, contour brush, and concealer brush.
Meet the 3DHD Blender
For DIYers who've sliced their Beauty Blenders in the name of chiseled cheekbones, this is a familiar tool. (Careful with this, though. They can start to rip, peel, and flake.) A sponge created in a similar shape as your DIY would eliminate the risk of destroying your $20 BB, so these are definitely worth a try.
The most exciting feature on Sigma's new makeup sponge is the pointed tip on the black variation. The sharpness just might make for better blending in the tear ducts and the wide flat surface looks ideal for applying contour creams. While the price and release date aren't available just yet, we can't wait to get our hands on this product.
We can't wait to see how vloggers work their magic with the new 3DHD Blender. Can it really blend, conceal, contour, and highlight?
https://www.instagram.com/p/BMWTYKbjuf4
In the words of Sigma Beauty's co-founder and chief creative officer, "We don't just 'do' things. We change the way things are done!"
We have a feeling the mad scientists over at Sigma Beauty wouldn't let us down.